2014 was a traumatic year for me - not only losing my best friend and seeing my youngest (and only) daughter married off in some style, but also dealing with a cancer scare. Being "of a certain age" I was experiencing some minor waterworks problems, which were occasionally a bit annoying, but caused me no great concern. It was only after my very good friend

Ron Dell

died of prostate cancer, and his daughter told all the men at the wake "Get yourselves checked out boys!" that I began to think about my "little problem".

I booked an appointment with my GP, explained the problem, and asked for a

PSA test

. I was quite taken aback, when he said "No" - but then he handed me an

IPSS Questionnaire

, told me to fill it in and let him have it back. Only then would he decide if a PSA test was appropriate.



DOWNLOAD THE IPSS FORM & FILL IT IN NOW

-

IT MAY SAVE YOUR LIFE


I took the questionnaire home and did some on-line searches, trying to find more information. What I found left me very confused - one authoritative website stated "The PSA test is a life-style choice" - which struck me as stupid & unhelpful. I found an informative film clip

HERE

, and listened to Samuel L Jackson

One For The Boys - The silent Interview

, then I quickly filled in the questionnaire, and took it back to my GP, who then agreed to a PSA test.

The phone rang late that same the evening, after the PSA test, and it was my GP on the line - another surprise! He said the PSA test result was "abnormal" and that I needed to come back to his surgery for "further examination". This is known by doctors as a

DRE

and if you are curious you can look it up yourself [sic].

That examination gave my GP cause for concern, and he then referred me to the Urology Department at Bournemouth Hospital. I saw the main man there (Mr. Weddeburn) who heard my story, confirmed PSA test results and did another DRE. He straightaway booked me in for peak flow test, MRI scan, isotope bone scan and biopsy - I could not help but notice he rubber-stamped all the paperwork in red with the words FAST TRACK which was both reassuring and alarming.

Peak flow test - easy - drink a load of water - ultrasound scan to see how much is in your bladder - pee in a bucket hooked up to a digital scale that graphs your flow rate very accurately, then another U/S scan to check your bladder is empty.

MRI scan - easy - don't worry about claustrophobia, as they put you in feet first and only go up as far as the area of interest - but you will have a needle in your hand or arm so they can inject contrast medium half-way through the scan.

Isotope Bone Scan - easy but weird - they give you a radioactive injection, you sit about for an hour (avoiding small children & pregnant women) and I felt quite drunk - then into something very like the MRI scanner as before.

Biopsy - essential procedure, but not one I'd care to undergo again.

Details Here

(if you REALLY want to know)

Then you wait... not many days, while they collate the results, then back to hospital to discuss treatment options with the surgeon. In simple terms, it was a choice between months of hormone therapy + radiation + chemo (with numerous side effects & no possibility of surgery later) or surgery (radical prostatectomy) followed by regular check-ups and all of the other stuff later if necessary. That was a no-brainer for me - surgery please!

That was in June - and the first available surgical slot would clash with our planned (and paid for) holiday in Sorrento - surgeon was happy to postpone action until we came back - and the date was made for early October. In brief, I had a close-up and personal encounter with the

Davinci Surgical Robot

(with Mr Weddeburn at the controls) which did a very thorough job, and left me with 6 small "bullet holes" across my tum. That was October 8th 2014, and apart from a few niggles, all is well, and I am very glad to be alive. If you want to know more, please email me richard(at)nourse.org.uk or send me a private message on

Facebook

.



Useful Links:-

NHS PCRMP FAQs

+

PCa Support UK

+

Graham Norton

+

Love The Glove

+

One For The Boys

+

Ben Stiller




Prostate Cancer Statistics for UK:-

Cancer Research UK




Travel Insurance Info:-

Cancer Research UK

+

Macmillan

+

Staysure Insurance

+

Fish Insurance





Top Tips:-

1. When you go in for the biopsy, have some strong pain-killers ready to take immediately after the procedure and for the next 6-8 hours.
Do not imagine that you will feel like driving a car!

2. When you go in for surgery, take a supply of the best throat lozenges you can get - immediately post-op you are liable to have the mother and father of sore throats where you were intubated. I was on the table for 3 1/2 hours.

3. Unless you love hospital food, take some emergency rations, like bananas, grapes, apples, oranges & soft cake or chocolate bars, because when you wake up, your tummy will be empty.

4. The large bore "bendy" plastic drinking straws will make it easier to drink from your water glass (or cup of tea) if you cannot easily sit up immediately post-op. A 500ml water bottle is also handy.

5. If your surgical ward is as hot & noisy overnight as mine was (N.B. EARPLUGS), get yourself mobile ASAP and then home to a proper bed and blessed peace & quiet! - Remember, you are not allowed to drive for several days post-op!

6. Starting the day after your op, you will be on a 3 week course of heparin (anti-coagulant) injections. The needle is so fine & short (about 1cm) that you barely feel it, and the dose is only about 1ml. The jab is only sub-cutaneous (very shallow) and needs to be more or less in the area of the keyhole incisions. If you can't manage to do this for yourself, I'm sure you can find somebody who will be happy to do it for you!

7. For the first week post-op you will have to put up with a catheter and pee bag. They give you a small "leg bag" which allows you to walk about freely, and a "night bag" that goes on a stand by your bedside. You just have to get on with it - personal hygiene is also important, and be aware that there is no such thing as a leak-proof catheter!

8. In the first few days post-op you may be very constipated (after stomach muscles cut & bowels pushed around) - make sure that the "Goody Pack" which is your parting gift from the Discharge Nurse contains a good laxative (not just Milk of Magnesia), along with post-op care notes and "man pads".

9. After that first week, the catheter is removed by a specialist nurse at the hospital where you had your op. Make sure you have a supply of "man pads" handy! From now on you will hear constant reminders about "Pelvic Floor Exercises" - which may come as a bit of a surprise if you thought that was just "for the ladies". If you ignore that advice, then don't be surprised if you have occasional "accidents" - so the "man pads" are a good idea - right?

Now... If you have 18 minutes (and 5 seconds) to spare, please watch this film -

Father's Day

(about PCa)
---

UPDATE - August 2016 - coming up to 2 years post-op - another routine PSA blood test - expected to be the last time I had to see my surgeon... Wrong! ... The last 3 tests have shown a small but steady increase in PSA score - 0.08, then 0.09 and now 0.1 - so something may have started to re- grow in the area around where my prostate was.
I have now been referred to the oncology department at Poole Hospital, where they may decide that I need a course of radiation therapy to zap whatever it is that has caused the PSA to rise. Presumably it's a case of "the sooner the better" if the growth rate is like most things in nature, which is exponential.

September 2016 - Oncology appointment didn't go quite as expected... When asked what I thought would happen next, in light of rise in PSA results, I said I expected tests and/or scans to identify any hotspots so they could be zapped.
I was surprised and disappointed to be told "there are no tests to pinpoint hotspots" - this because it only takes a small number of cells to give a raised PSA level, and they would not show up on any scan until they reached a significant size, by which time it would (presumably) be too late
Furthermore, they expect the guilty cells to be in the region of the "prostate bed" - but they might be anywhere else - lymph nodes being the next most likely location.
So... the plan is now for a "diagnostic scan" where they pinpoint the location of the prostate bed, and mark the spot with a small tattoo. Then I will be booked for 33 radiotherapy sessions over six and a half weeks - 5 minutes every weekday - with the expectation of feeling "unwell" after 2 or 3 weeks until about a month after the last session, possibly with a new range of side effects, which may diminish, or may be permanent. (Just felt weary for a month or so)
This will then lead to a further series of PSA tests, to see if they hit the jackpot. If they missed, then hormone therapy is next on the list!

6 October 2016 - Assessment scan completed, and I now have 3 little blue tattoos (just dots) one of which was very close to "home" - RT team consisted of 3 very pleasant young ladies and I felt quite relaxed as they drew marks on my nethers... can't say I enjoyed the tattoos!
I also learned the ritual to be performed every time I go for one of my 33 appointments with "Varian 1" at Poole Hospital.
Arrive an hour early, micro enema, wait 30 minutes, "go", drink a pint of water, wait 30 minutes and then "Zap Time".

28th October 2016 - 1st treatment - nervous because I did not know what to expect... All pretty straightforward - only problem was that I had not drunk enough water prior to treatment, so that pint of water had not filtered through to fill my bladder (helps keep it out of the line of fire) so I had to drink more, wait another 30 minutes, and it was "all systems go" - the wonderful machine zapping me from all directions, following the same path as my waistband.

Day 2 - all went smoothly this time - discovered how much water I need to drink, and when!

So this is the routine for the next 6 weeks - every weekday in for 60 seconds of zapping, and weekends off - should be finished mid-December
- a grand total of 660 miles travel, Wareham to Poole & back - glad I had my Old Git's bus pass!

My fellow RT patients are a mixed lot, young & old but all friendly, and most of them happy to chat and compare stories.
The waiting room has a good supply of sweeties, magazines &amp jigsaw puzzles - even a hot drinks machine!
This is the

Varian

equipment where it all happens - quick and painless!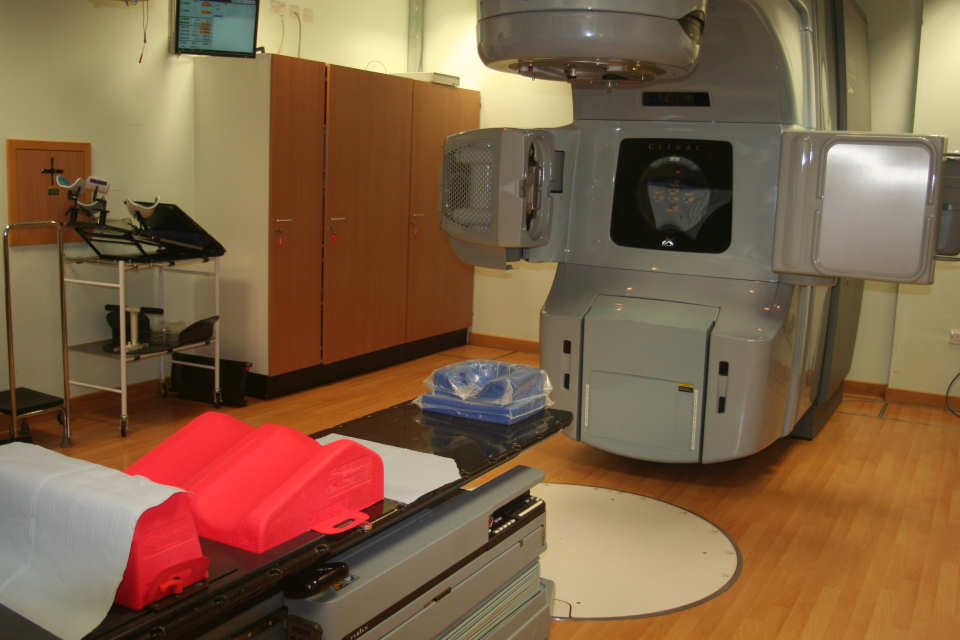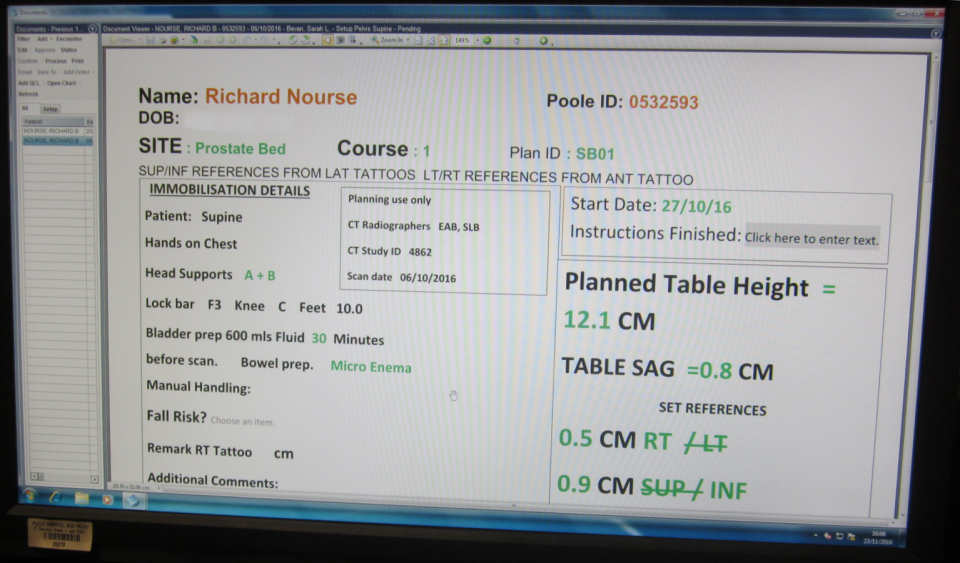 1 December 2016 - 22 sessions done, 11 more to go - had a couple of cancellations due to machine breakdown
- at present, it looks as if I should be all done just in time for the

GOG Christmas Bash

on 17 December.

16 December 2016 - all done - 7 weeks - 33 sessions - 66 journeys - 66 Grays - about 150 hours and 660 miles
- friends and family have been a constant & comforting support throughout, and I have been touched by the kindness of strangers
- from the local pharmacist, the postman, the bus driver, the receptionists and staff at Poole Hospital Varian Suite
- thank you all - and in case you were wondering...

What is a Gray Fraction?



With Christmas coming, and feeling even more happy to be alive, I was delighted to give some toys to the children's ward at Poole Hospital, and some Santa hats and GOG lighted bottles & LED strings to the RT staff, as well as topping up the sweetie bowl in the waiting area several times!

Interesting to see proposals to reduce the number of sessions down to 20 - thus saving travel time
and number of visits to hospital (and NHS costs) - but does "one size fit all"?

Click Here

to see!

25 January 2017 - Post-treatment PSA blood test - result "undetectable" - which equates to "less than 0.03" -
which is a relief - all clear for fun, love & GOG shenanagins, with a test every 6 months for the next 5 years.

2nd June 2017 - next PSA test booked... Result = 0.03 ... Good enough!

6th September 2017 - A schoolmate from 55 years ago lost his long & painful battle with this thing. RIP Chris.

January 2018 - next PSA test scheduled ... Poole Hospital phoned with result = <0.03 ... Happy Me!
Nice lady sending me 2 blood test forms and appointment at local clinic.
Tests continue every 6 months, and she will phone again next January

July 2018 - routine PSA test - no callback, so assume all clear.

December 2018 - 4 years post-op - next routine PSA test
January 2019 - telephone consultation with hospital "PSA undetectable" - thank you!

July 2019 - routine PSA test - no callback, so assume all clear.

December 2019 - 5 years post-op - next routine PSA test +
January 2020 - telephone consultation with hospital "PSA undetectable" - that'll do nicely!

July 2020 - routine PSA test due = all OK

December 2020 - 6 years post-op - routine PSA test due

January 2021 - telephone consultation with hospital "PSA undetectable" - all good!

July 2021 - routine PSA test due

December 2020 - 7 years post-op - routine PSA test due

January 2022 - last telephone consultation with hospital



--- End of Prostate Info ---
---