GOGs & Chums Special Events for 2014



Ron Dell

,

Gary Mark GDO

,

WHKF Workshop

,

Swindon Indoor Fly-in

(March),

Streatham KF

,


Weymouth KF

,

Gittesden

,

Ardingly

,

LUTS + OSOW

,

Conker Bash

,

Swindon Indoor Fly-in

(Nov),


Xmas Dinner + Kelvin Butterflies



To avoid confusion (mostly mine), I have also briefly listed the

Main Events

below,
in date order, with links to their own GOG pages
---
A Service to celebrate the life of Ron Dell: 18 Feb 2014
It was with heavy hearts that we assembled at a little church in Welwyn.
Goodbyes are always painful, and this last farewell promised to be heart-wrenching.
However, thanks to Sally's request that we dress the church up for her Dad, to make it look
like a fly-in, and the magnificent response from some very good people, went the day well.

Please follow these links to see more:-

Ron's GOG Chum page

~

Ron's Odd Odes




The Kiteability Website

AKA the "Teston Kite Family" ~ and

Flying With Angels
---
Grand Day Out with Gary Mark in London: 12 March 2014
News has leaked out that the GOGs kidnapped

Gary Mark

, and dragged him all round London...
We understand that nobody would pay the ransom and he is now busking somewhere in Spitalfields...

First they forced Gary to eat 2 (yes TWO) Full English Breakfasts..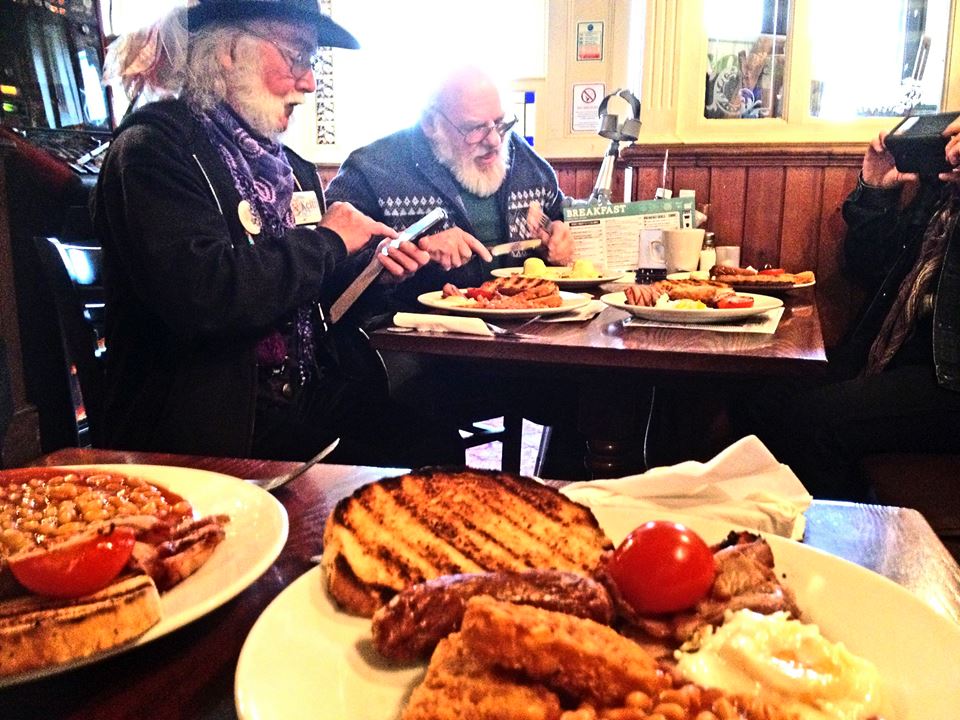 to see the full story, please click

HERE
---
WHKF Twisted Box Kite workshop, Swindon: 15-16 March 2014
Jan van Leeuwen & Jolanda showed us how it's done.
They provided excellent pre-cut kits + that special centre joint with 12 holes!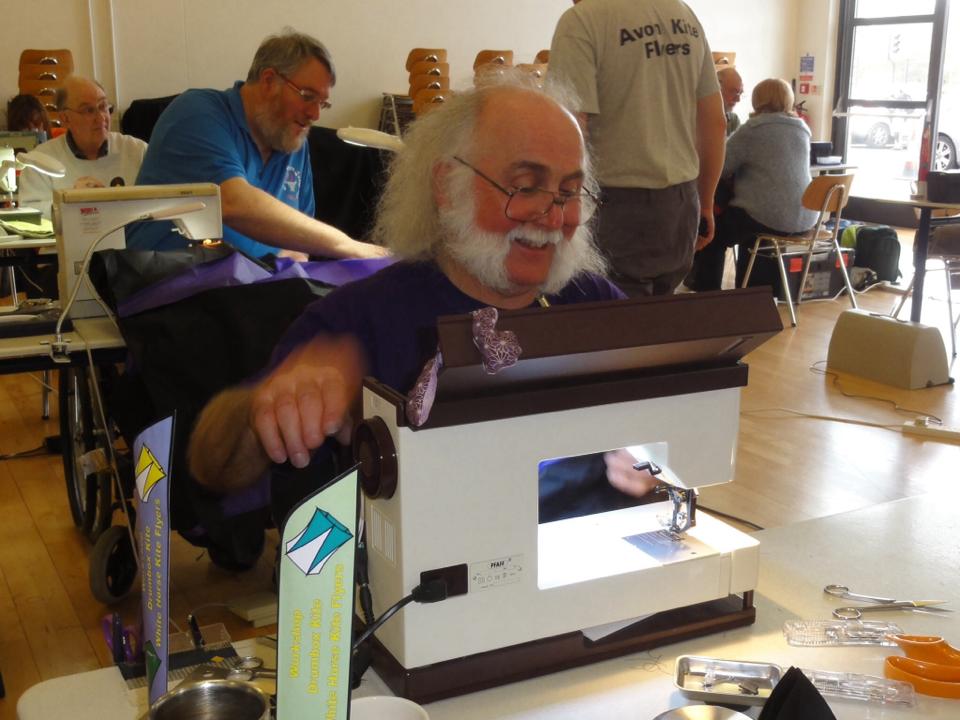 To see the full story please click

HERE
---
Indoor Fly-in at St Joseph's College, Swindon: 30 March 2014
Top of page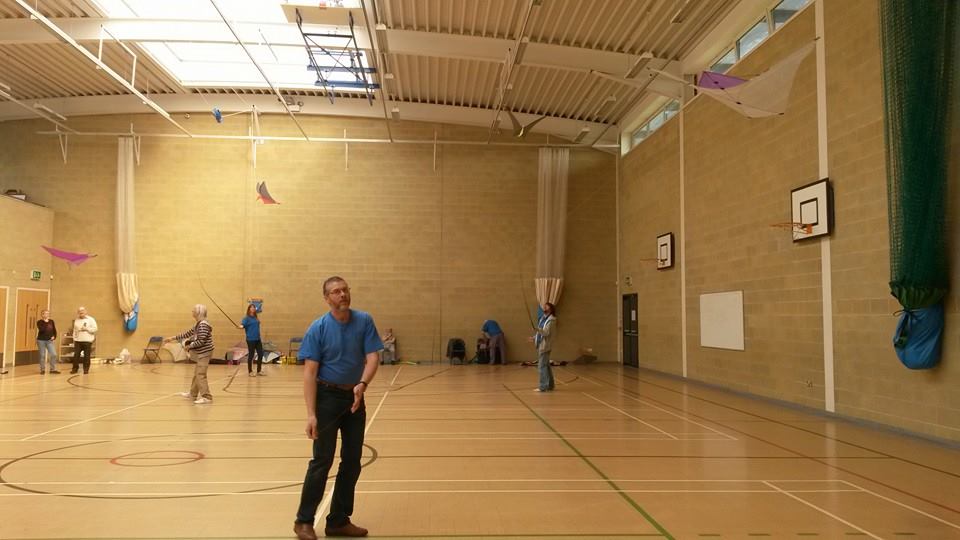 Sandra took some nice photos - to see her Facebook gallery please click

HERE
---
Streatham Common Kite festival: 6 April 2014


Alan, Keith, Andrew, Sandra, Peter, Jacqui & Collin were all there, being helpful
- but first.... FEB + Facebook at Wetherspoons!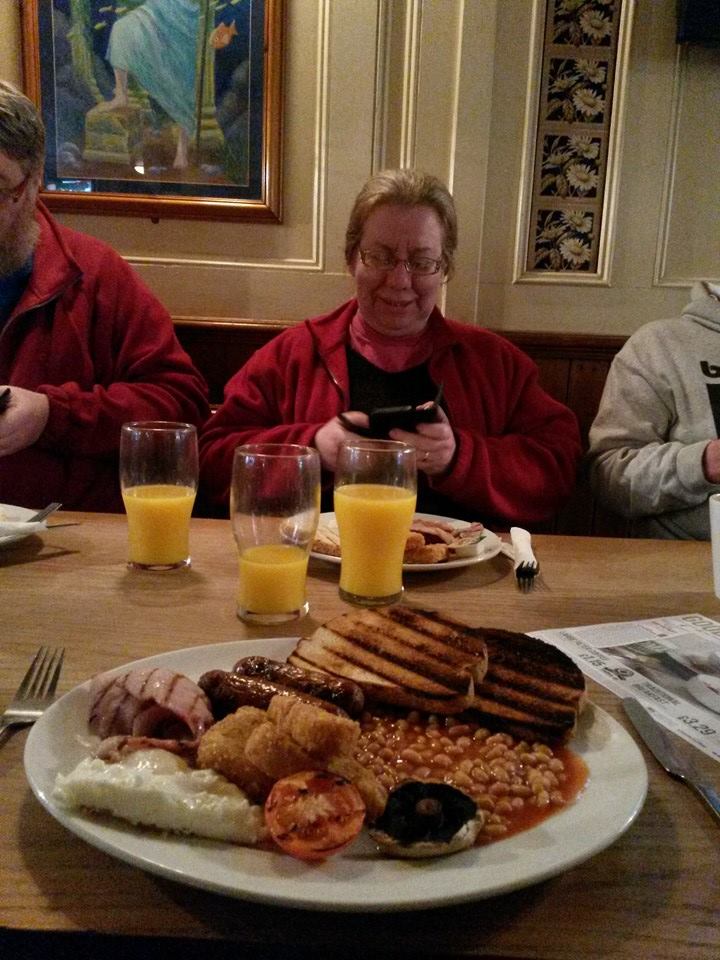 To see the full story please click

HERE
---
+++ Houlgate Plein Vent: 25-27 April 2014 +++
---
Weymouth Kite Festival: 3-4 May 2014
Weymouth Webcams

~

Top of page
Dicky went on the Saturday, with the intention of helping his AKF buddies who usually have some big stuff that needs a lot of man-handling, especially in the usually tricky winds on Weymouth Beach. As it turned out, his was the only AKF sweatshirt on the beach that day, which led to an awkward moment when a newbie from Taunton wanted details of AKF activities in his neck of the woods!

He found several old friends on the beach - Roy Broadley, Waine Hucker, Collin Marshall, TC, Alan Pinnock and Roy Martin - and a few local "kite friends" whose names he can never remember!

The winds were light and variable, coming generally off the sea, but frequently fading away to nothing. Dicky managed to fly his 3D Goldfish (cheap & cheerful from China) but there was a lot of walking backwards and hasty reeling in, to keep it aloft.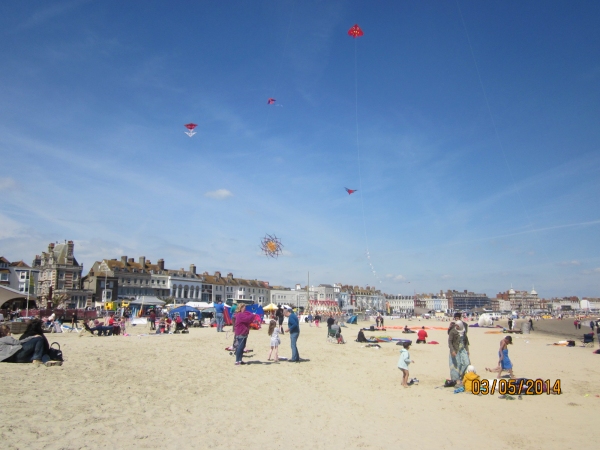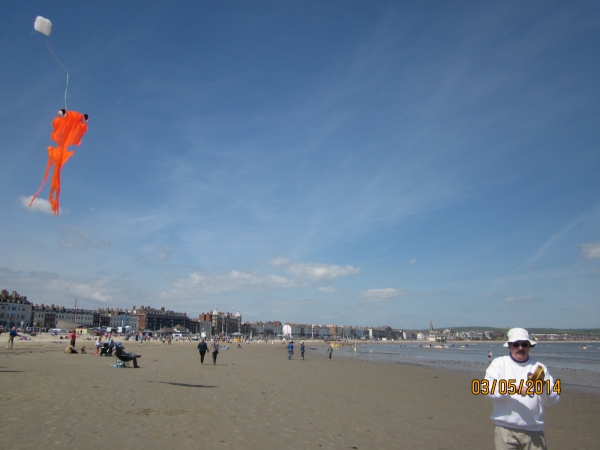 To see the full story please click

HERE
Kelvin Woods Butterflies Memorial Fly-in: Sat 20 Dec 2014
Top of page
to quote from Roy Martin's FB posting:-
We are proposing a pre-Christmas fly-in on SATURDAY December 20th at the buggy field.
This was the time last year that we flew in memory of Kelvin Woods, so bring your butterflies along.
Hot drinks and mince pies will be available.
---
Well, it was no surprise at all that the GOGs and Chums turned out in force for this event,
and being really keen, they arrived almost a day early!

Naturally, they had to do something to pass the time away -
and the obvious place to do that was (surprise, surprise) The Jolly farmer...

It did not take long for the Usual Suspects to succumb to the subtle advertising
and Keith was determined to properly christen his lovely new (BIG) trophy (with ale)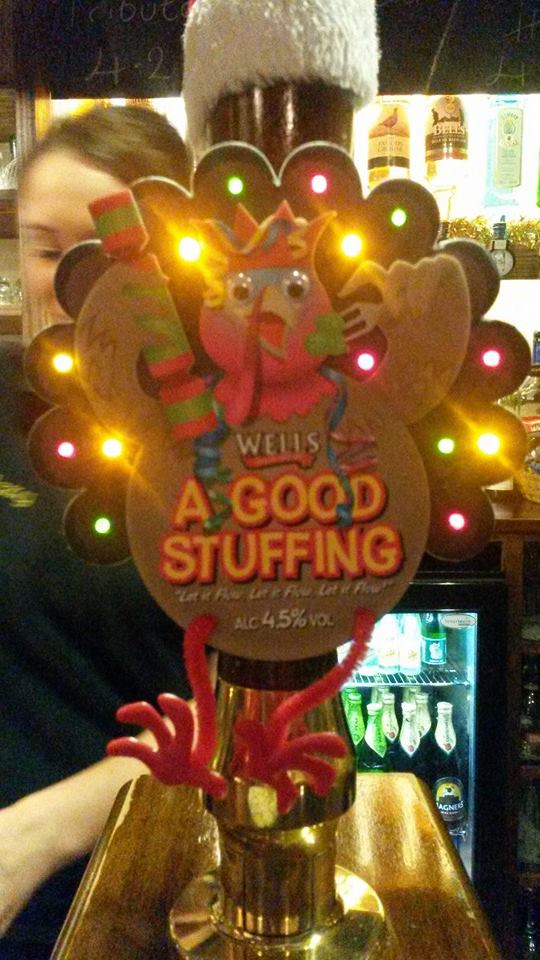 The Usual Suspects... doing what they do best!



Somehow they managed to amuse themselves until the dinner table was ready...


Blimey - would you buy a used car from any of this lot?



With the support of a plethora of Kazoos & other noise makers, they sang some splendid carols...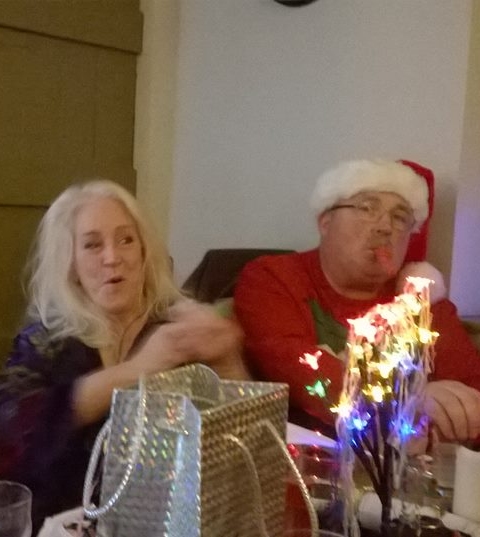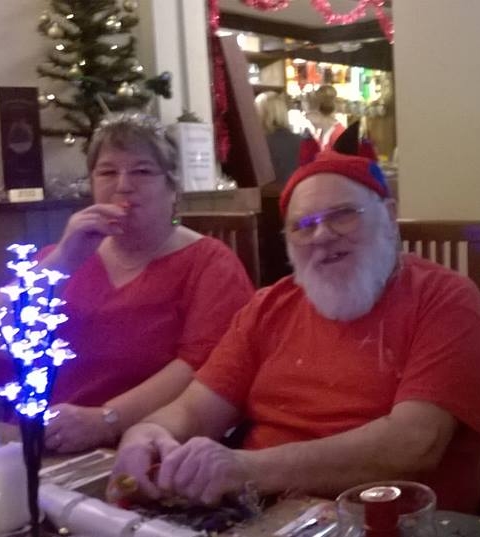 and somehow managed to avoid being thrown out...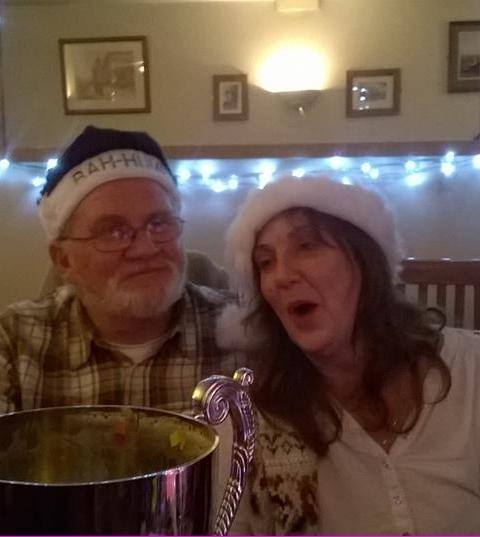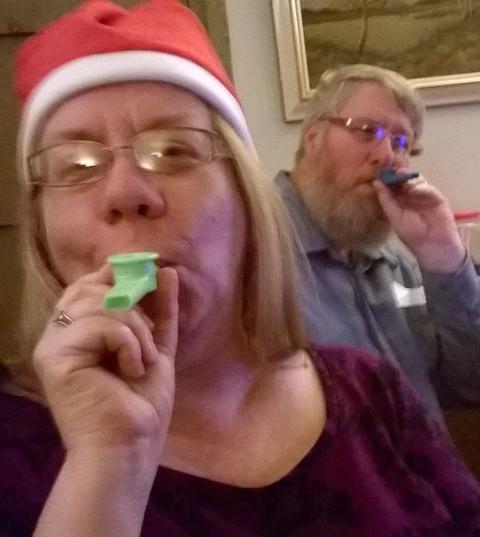 and then there was a surprise!

Christian stands up (with the help of a chair back, and stiff leather trousers)
and makes an announcement...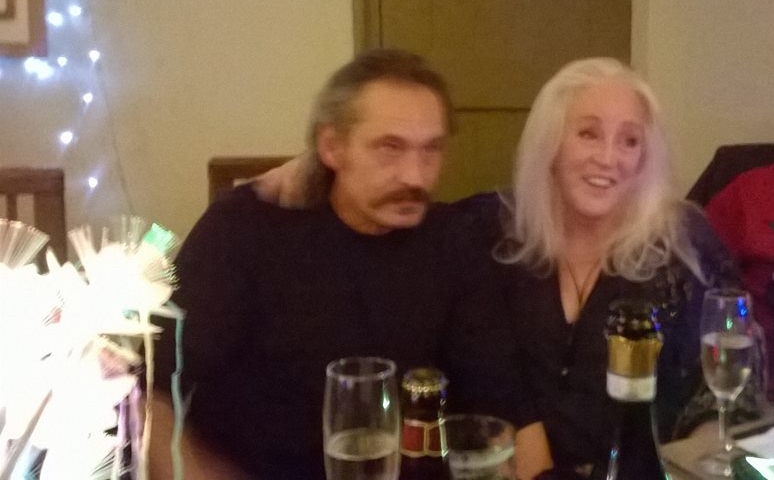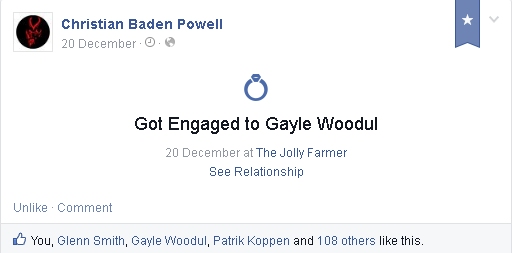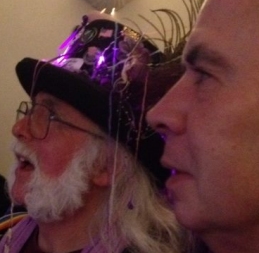 Woohoo! Much applause, cheering and drinking of toasts (any excuse)

The crowd went wild!!! Wayhay - Woohoo - Yippee - Another toast!!!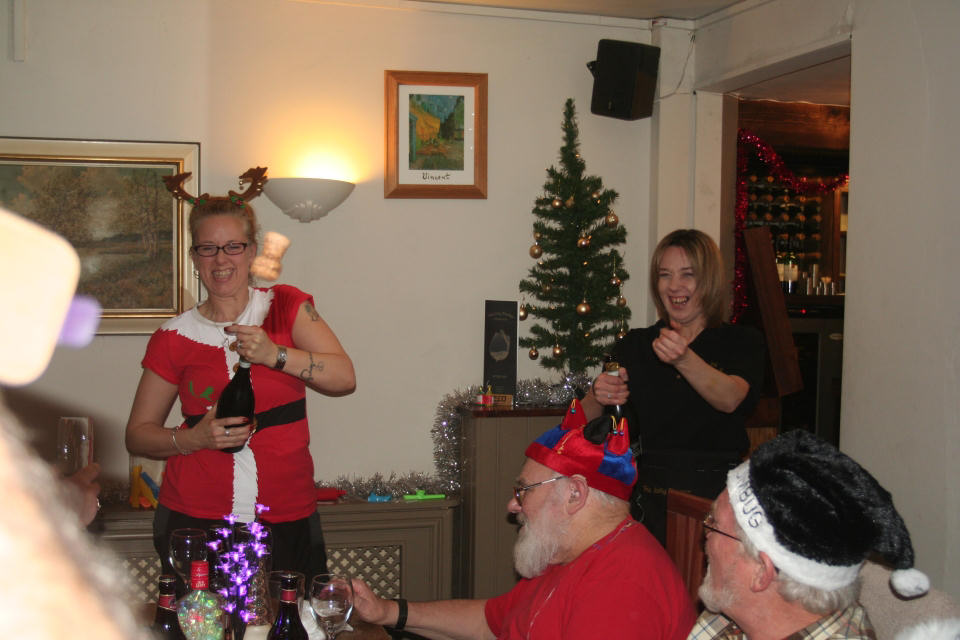 (many thanks to the hard-working and cheerful bar staff at the Jolly Farmer)

Then Peter produced a rather splendid Christmas present for Jacqui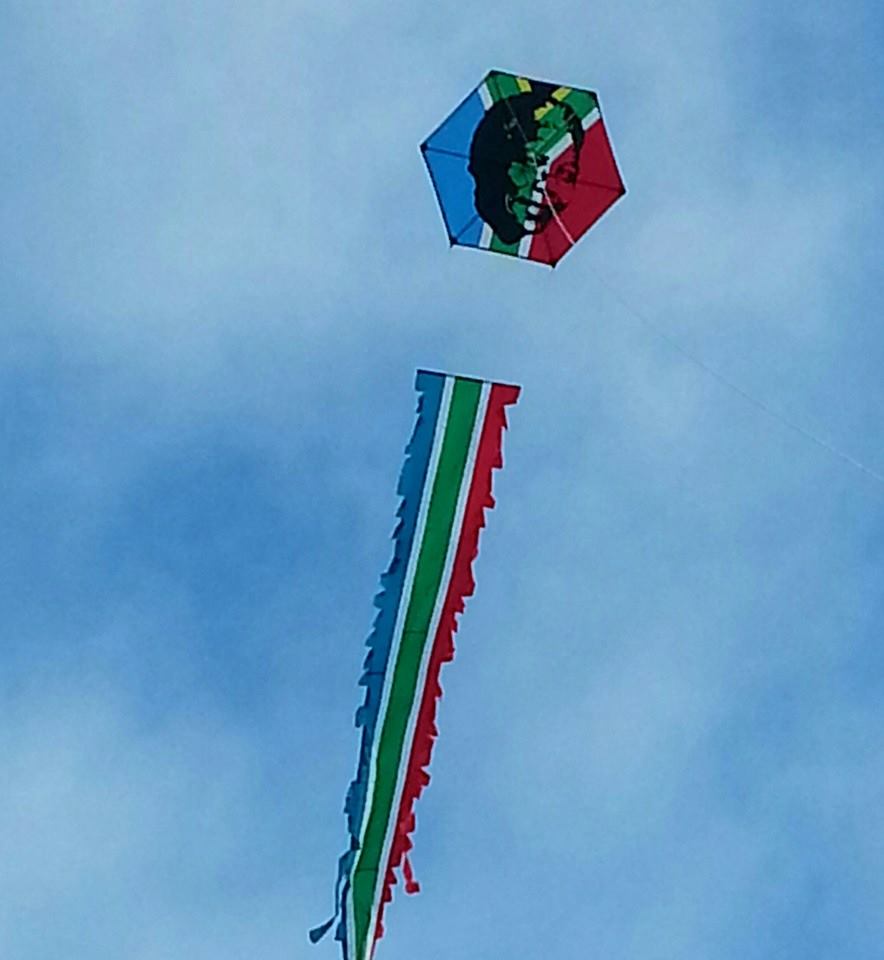 Here it is flying the next day, and looking VERY good over the JU field while Peter had to deal with
the unpleasant matter of having his car broken into (this was the first time), and his satnav nicked.
- Moral:- Don't leave your Satnav in plain sight in an unattended car park!
---

There was a good turnout for the

Kelvin Woods

memorial Fly-in next day, and a number of his lovely butterflies took to the air, but the wind was pretty fickle - sometimes smooth and steady, then gusty and all over the place - even Keith had to rescue one of his kites from the downwind hedge!



As there were a good number of Gits Assembled - we posed for a

Thumbs Up for Lutz

shot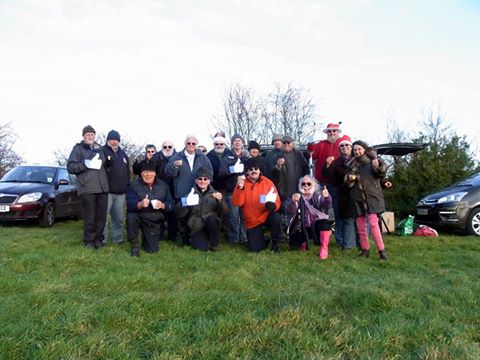 It was quite parky, so the hot drinks, advocaat & mince pies were very welcome -
Many thanks go to Marilyn and Roy Martin with those goodies + their camper van!

Facebook Albums by:

Sandra Scott