Snow very nearly stopped me making it to Seattle,  Frances and I were not happy about Alan taking me to Heathrow, with so much snow overnight.

I must say A VERY BIG THANK YOU to Alan, he had volunteered to take me to the airport, he had got up and dug his car out of the snow, before ringing me. (as planned the night before) But we could not let him drive in that much snow, Thank you Alan, you are the BEST of friends.

As we have the 4x4 pickup, Frances said she would take me to Heathrow, A VERY BIG THANK YOU to FRANCES - where would I be without you?

Our journey started at 5.40am, in a bid to beat the traffic, on our journey we heard Gatwick was closed along with other Airports around the country, but no mention of Heathrow. It took less than an hour to get there, most major roads were drivable with care.

Arriving at Heathrow about 6.30, straight through Check In, had to Check all my bags, SECURITY, (thanks Pants Bomber!) 15 minute through Security checks, leaving me with a 5 hour wait for my flight, (boy did I have a numb bum by the time I got to the Oregon Kite Retreat, 5 hour at Heathrow, nearly 16 hours flying followed by a 4 1/2 hour Pick up drive to Rock Away Bay, it was all worth it though)

Arriving at Tacoma Airport, feeling like I had been run over, it was fantastic to be greeted by Marla, (complete with scooter, after operation on foot, easier than crutches) Phil, and then Ron in the car. My Washington / Oregon experience had started.


Thank you Marla and Ron for looking after me

My 1st Mac & Jacks followed by a superb BLT, (Ron looks sleepier than me)
(in the foreground Marla's scooter)
Thank you Phil for inviting me
(looking larger than life)
A good night's sleep was certainly welcome.
---
Thursday 7th January

After eggs, toast and a lot of coffee we left for Rob Pratt's house,  where we met Bary Crites who was to drive us to

Twin Rocks Friends Camp

, the venue for the Oregon Kite Retreat. What a great place to make kites and meet lots of new friends.

I said earlier that my journey had left me feeling that I had been run over, with just one nights sleep, nothing was going to prepare me for the reception I received at OKR, It was like a roller coaster ride of emotions, joy, happiness, excitement and a little nervousness, which was soon dispelled by the warm welcome that greeted me from meeting so many fantastic people, who made me feel right at home. Thank you one and all for something very very special, that I will never forget.

Once we had registered and been allocated our room, it was back to the Meeting Hall, for our Deli Sandwich, chips and drink, another opportunity to meet even more kite makers and just soak up the atmosphere, also an opportunity to see all the kites that were to be made over the weekend. Some classes started that night, so eager were people to get going.


Later we watched kites being flown in the gym, 

here is Amy Doran who certainly knows how to handle a Rev.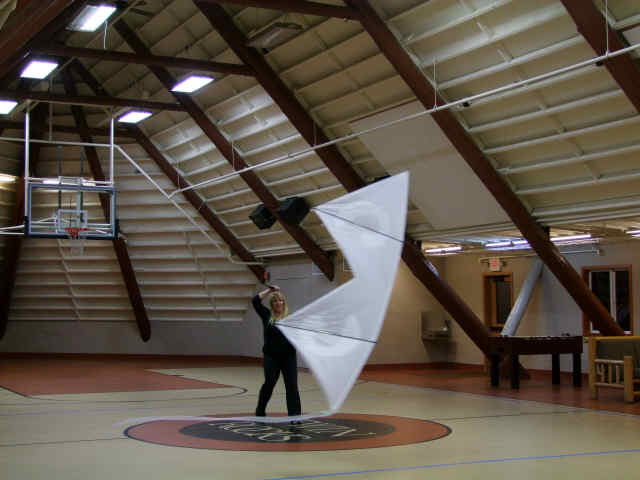 Minkey, always ready to try any thing new, took to the air.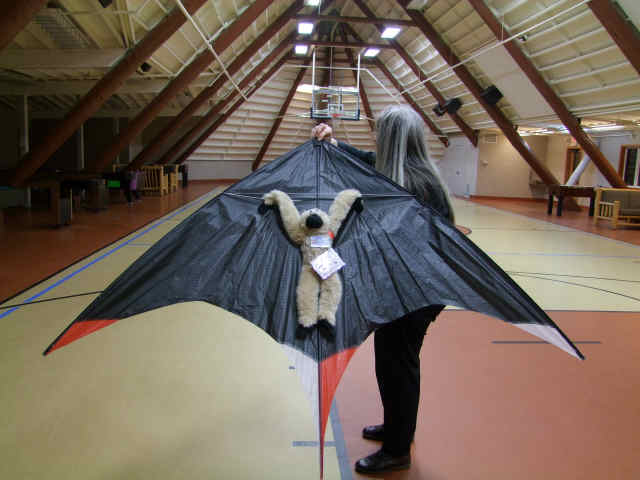 As so often with Minkey's exploits it ended in disaster.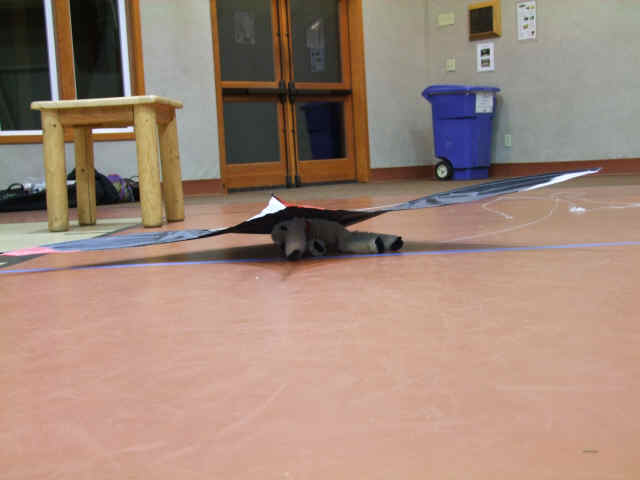 He managed to crawl of from under the wreckage.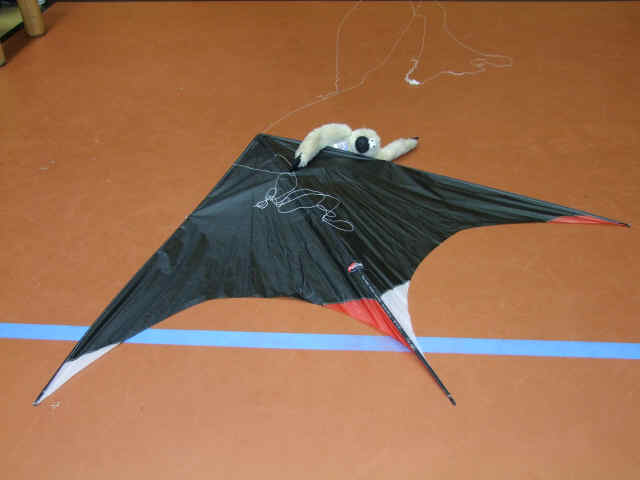 Here he is scoring at basket ball.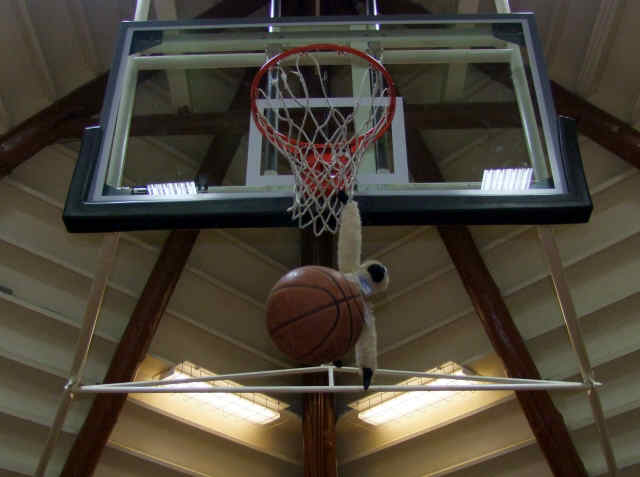 Phil's no match for Ronda's competitive edge.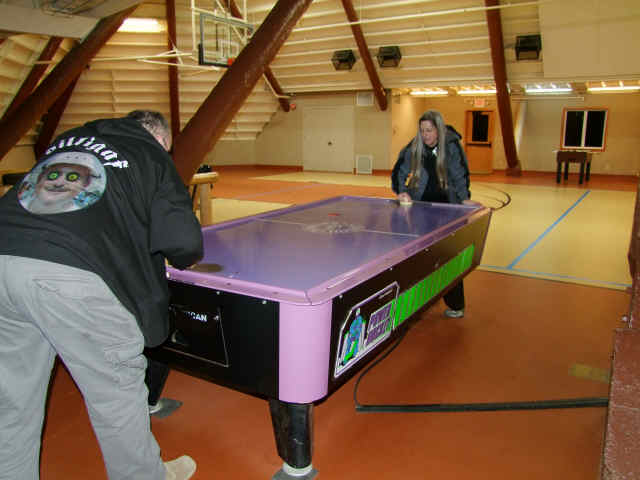 Have you noticed Phil's jacket? DILLIGAF? Didn't know he was Welsh!
---
Friday 8th January
Phil wanted to test the workshop kite, "Are you telling me you haven't tested this before?"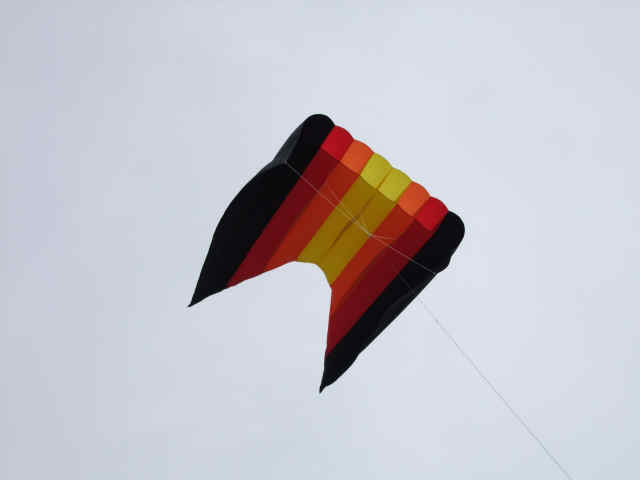 Nothing to worry about ………………it flies
The master in control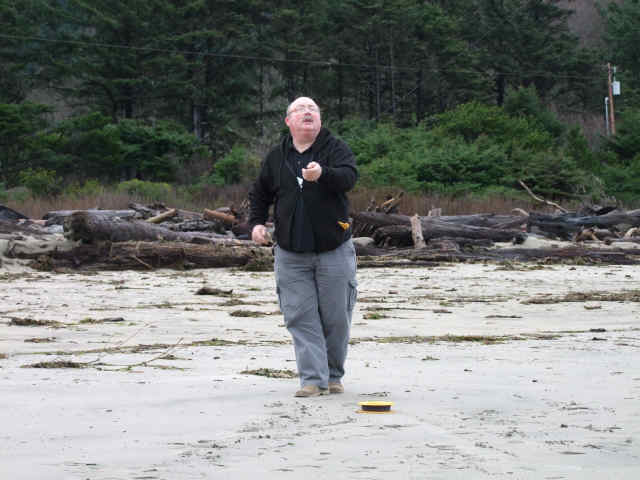 The Twin rocks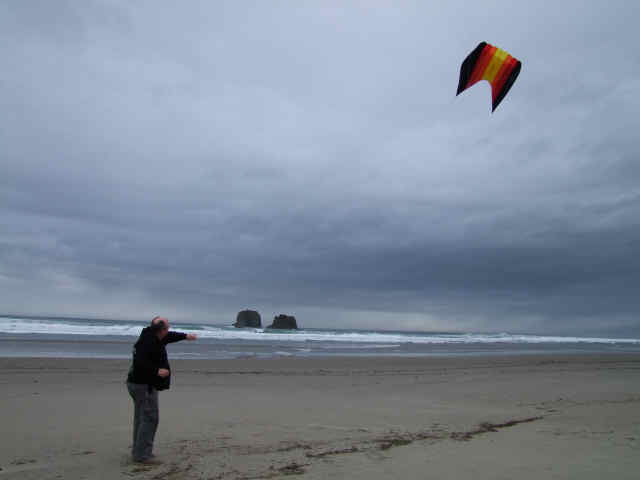 So much for that smooth Pacific wind, it was blowing in the wrong direction, but we wouldn't have got the picture, if it had been blowing from the Pacific

Friday afternoon I had booked the Hapi Coat class with Barbara Wright. I had a great time learning how to cut out and sew a Hapi Coat, thank you Barbara, and thank you for the loan of your Pfaff, certainly made me feel at home. I also learnt a bit about ironing!! (If only you could iron RipStop)

Barbara very kindly made Minkey his very own Hapi Coat, Thank you Barbara.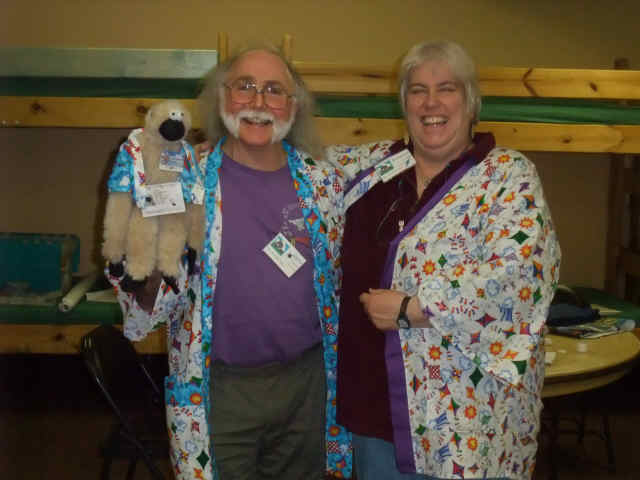 Minkey has refused to take it off, ever since he was presented with it.


Later during the evening Phil and I visited the various workshops,(Yes they carry on after dinner) lots of people hard at work, all very relaxed, but there was a determination.

---



Saturday 9th - Sunday 10th

The reason for being here, Phil's Flow Form workshop, don't laugh, I was his Teaching Assistant. Considering Phil and I had not really prepared for the workshop, (it will be different next time) all went reasonably well, after the slow and confused start.

This was quite an intense workshop and I must say everyone involved really had to work very hard, even working late into the night. Phil had already stressed that he would not carry on after midnight, but he and I were back in the workshop by 6.00am on Sunday morning, just early enough to have a coffee before all the kite makers started to arrive.

Due to their hard work most people finished their kites, one was even flew outside the workshop, and those who had not finished were linked up with someone who had. Well done everyone you did a remarkable job.

After Lunch it was time to pack up and say our good byes to all our new friends. and head back to Tacoma.
---

A BIG THANK YOU to Bary Crites for driving Phil and I to OKR

A BIG THANK YOU to Bary Crites and Rob Pratt for entertaining us on the way to OKR and on our return.

A BIG THANK YOU to Diane Weber for your organizing

A BIG THANK YOU to Deb Cooley for looking after Phil and I at OKR

A BIG THANK YOU to Jerimy Colbert for the fantastic raffles (yes Raffles, more below)

A BIG THANK YOU to Phil for asking me

A BIG THANK YOU to all the staff at the Twin Rocks Friends Camp for looking after us all so well.

And finally A BIG THANK YOU to everyone at OKR for making me feel so welcome, you really do have something unique and very very special.

Keith

---
The Raffles were something to see, every meal time( Friday and Saturday) there was a raffle, that's six raffles, each one getting better than the last. Needless to say a lot of money was spent and a great time was had, I was very fortunate to bring home a few prizes myself. Thank you everyone for your generosity.
---