We said goodbye to Newhaven....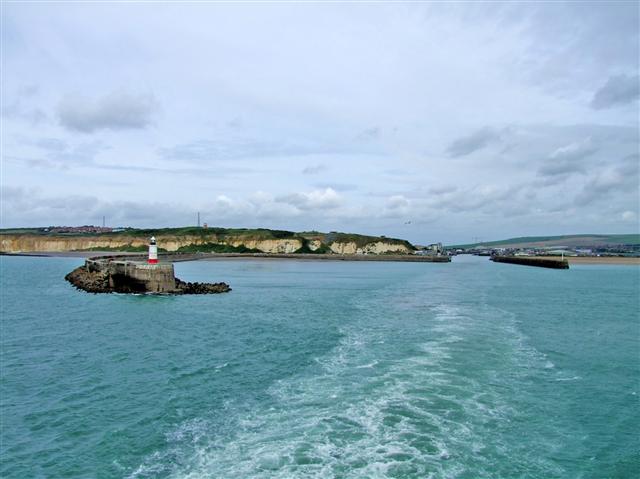 flew a little kite off the ferry...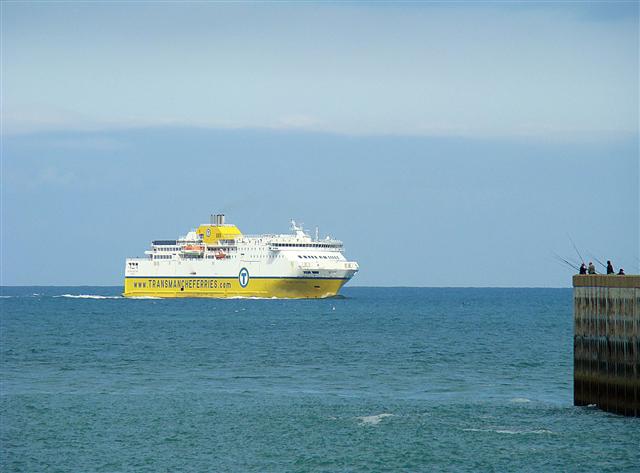 - and said Hello to Dieppe...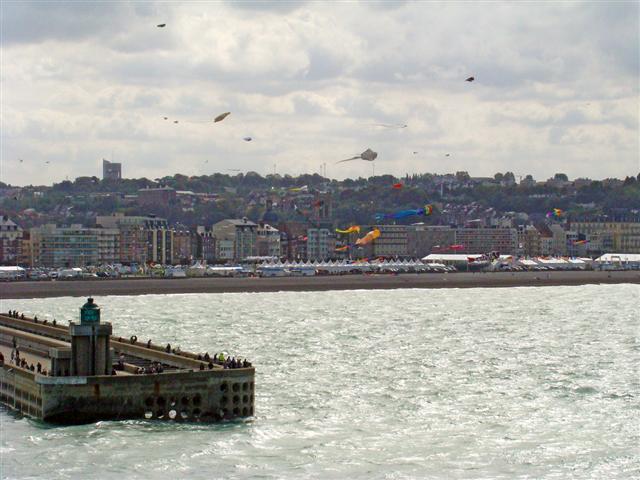 Lovely smooth crossing - Hello Dieppe!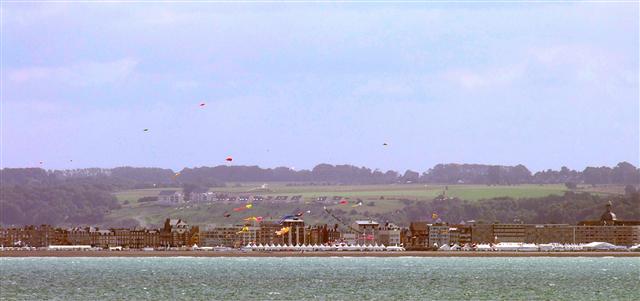 What a super welcoming sight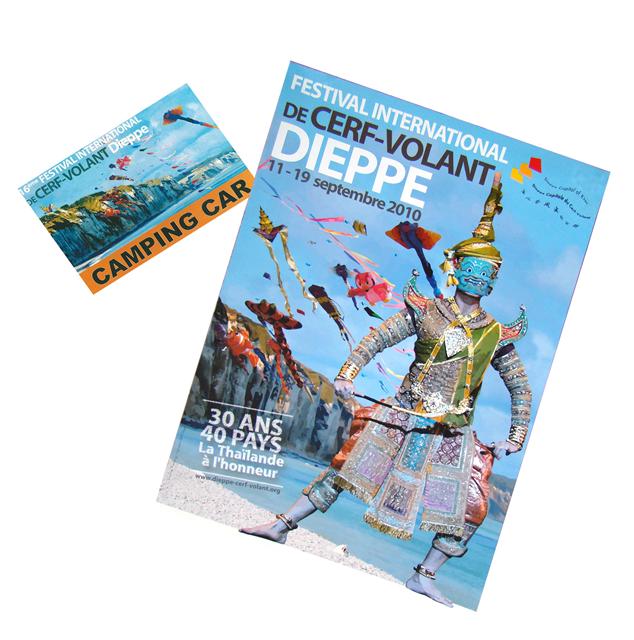 Registration first. Marthe issued Minkey with his kite flyer's badge. Very Important.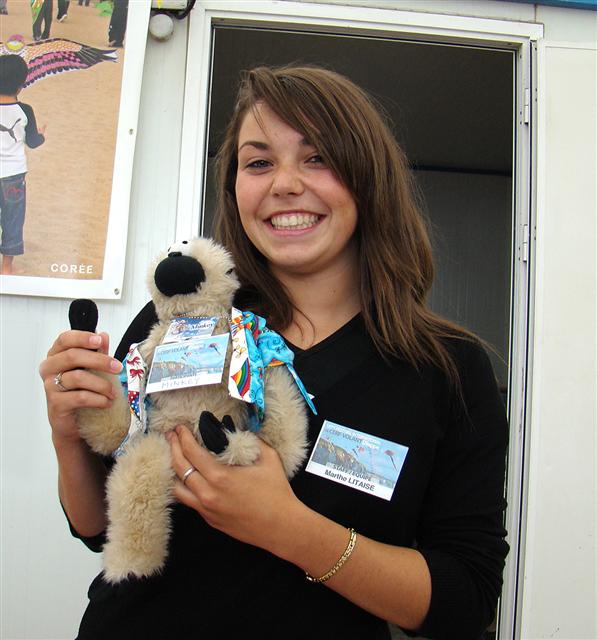 We stayed in the little house in Rue des Cordiers


Keith Paul and John for the week.
Plus Bob and Alan for one night and Sally for two nights. Very cosy.

Alan and Anne stayed in their van but ate most evenings with us in the little house
Cuppa coffees for Alan and Anne, wine for Keith and a bowl of sugar for Paul.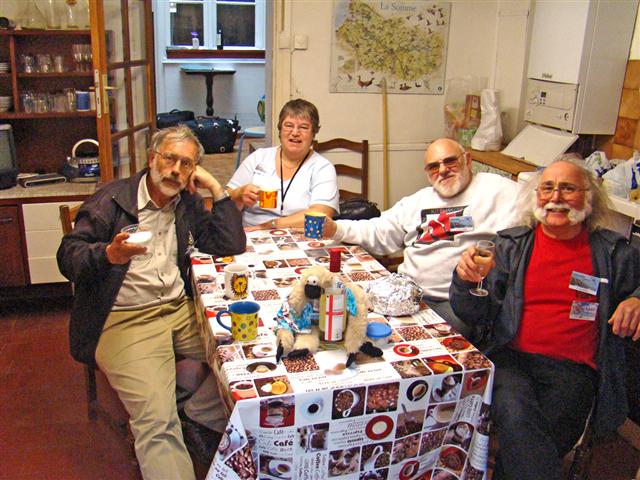 Alan was super mobile with his  Buggy. Minkey cadges a lift.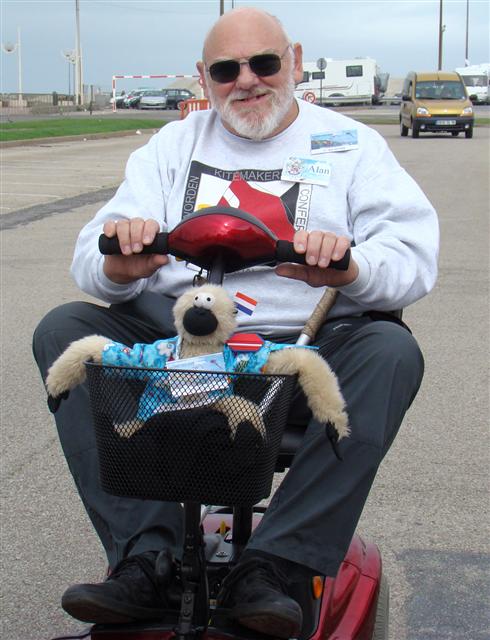 So, kites it was.... for whole lovely week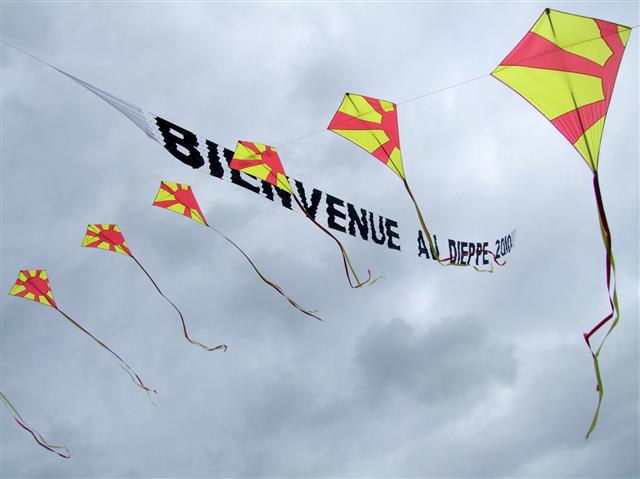 The Guests of Honour this year were from Thailand
and we were treated to some wonderful kite flying and dancing

The very fine flying team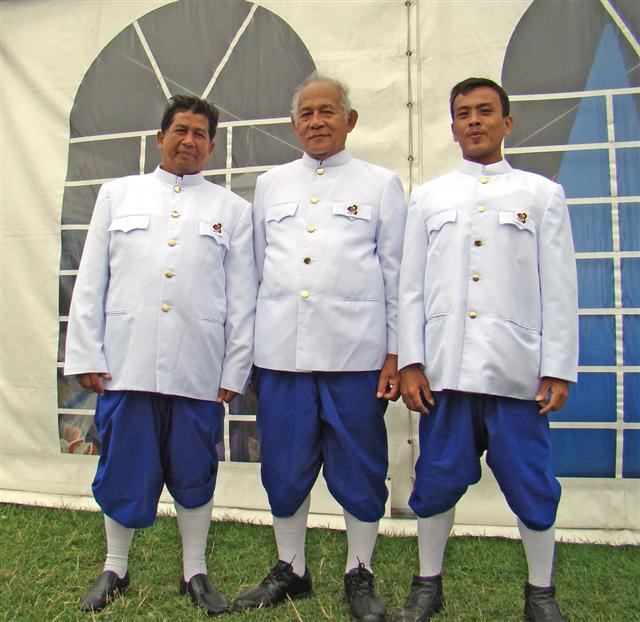 The Chula and Pakpao interacting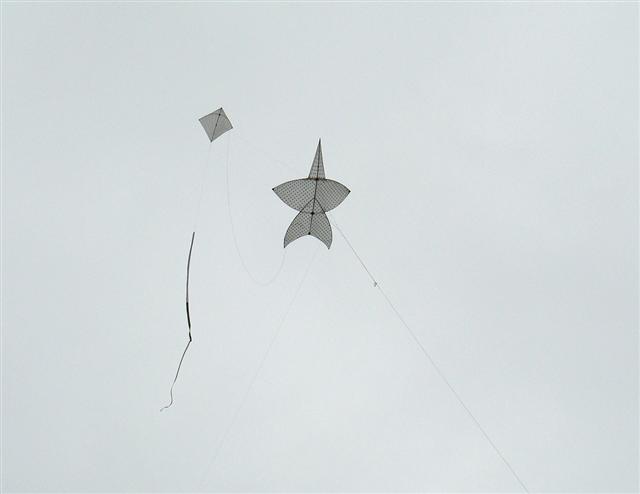 (click on picture to see them flying - 9.28MB)
The ladies all seemed
to have very bendy fingers...

and some splendid costumes!

John with the Thai Basket Lady - Alan and Minkey with an ornate dancer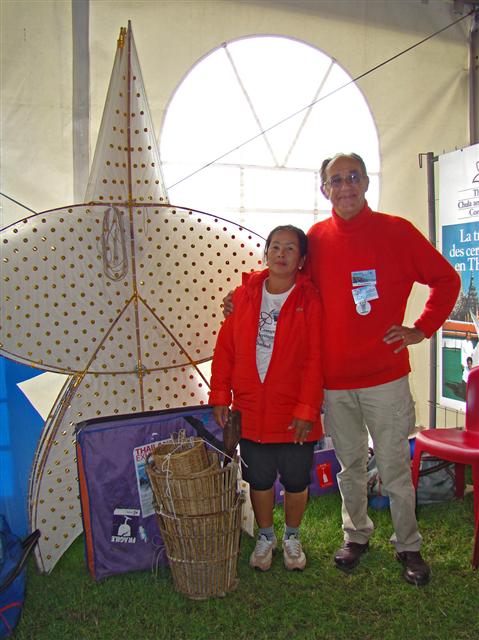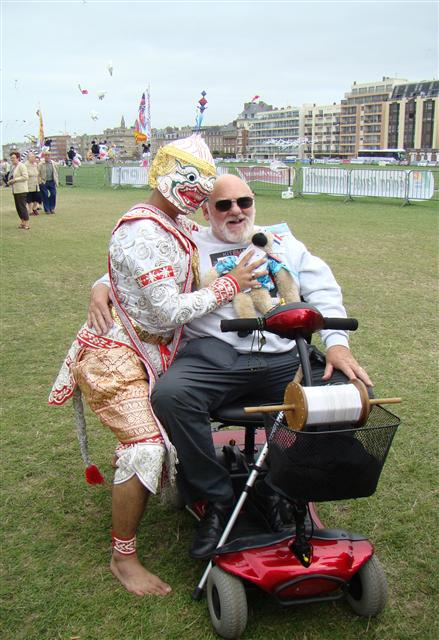 On your left... John with two dancers

- and below, Paul has a way with girls from all over the world...


Of course, everyone had to pose for their photograph with Minkey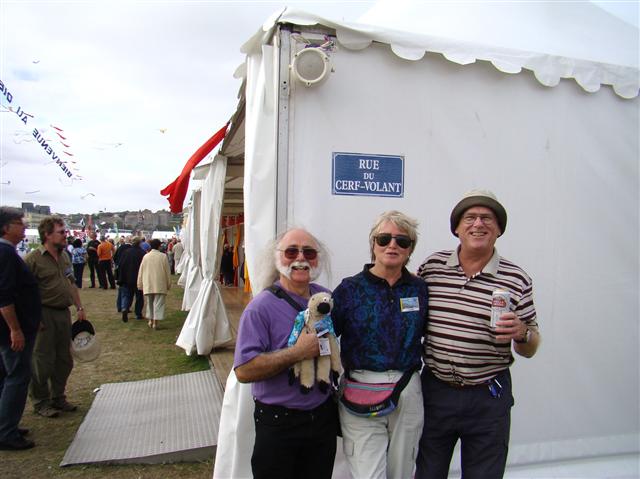 Janneke and Marla share the limelight with Minkey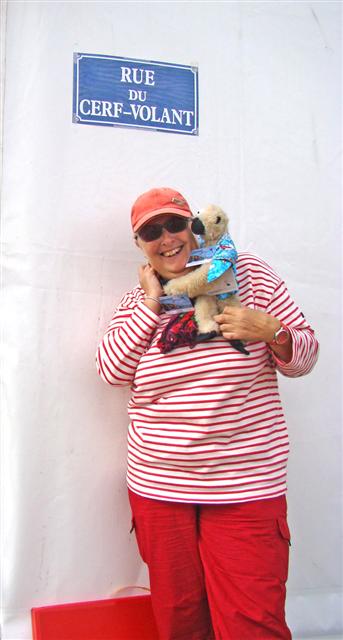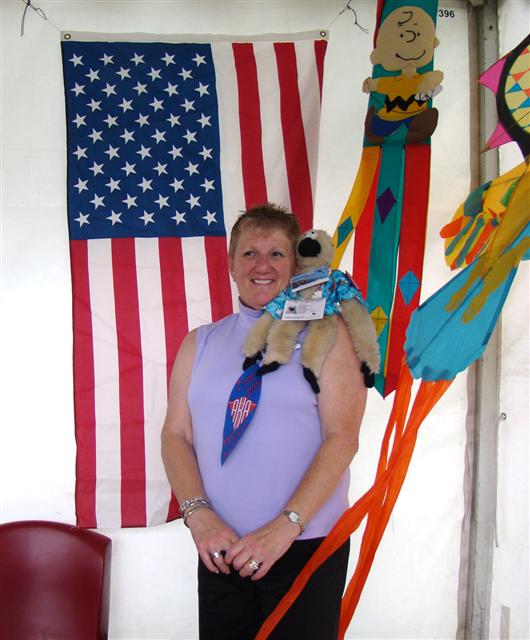 John spent happy hours with Yolanda & Orlando making Yellow Pages kites by the hundred.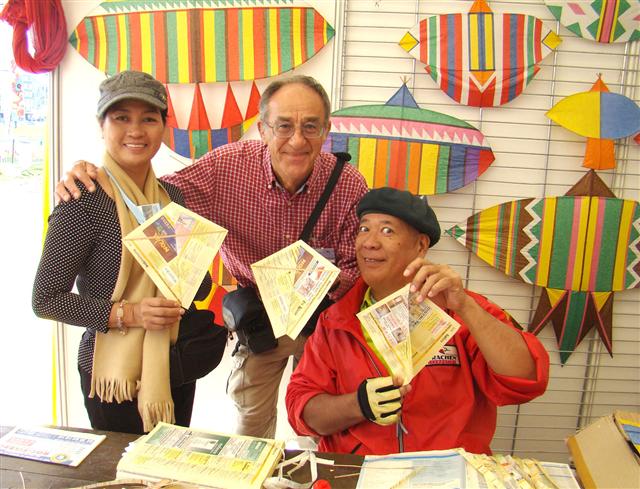 This young lady was delighted to make and then fly her little paper kite.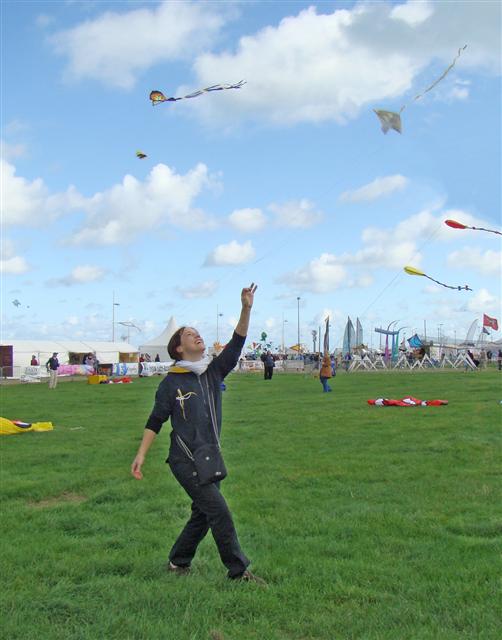 These leaf skeleton kites were exquisite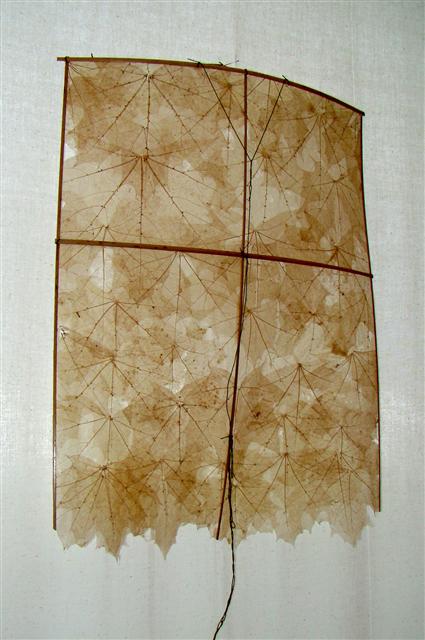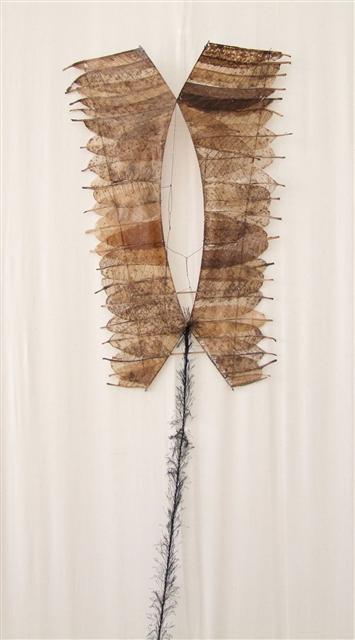 One day, Keith went off to the Castle...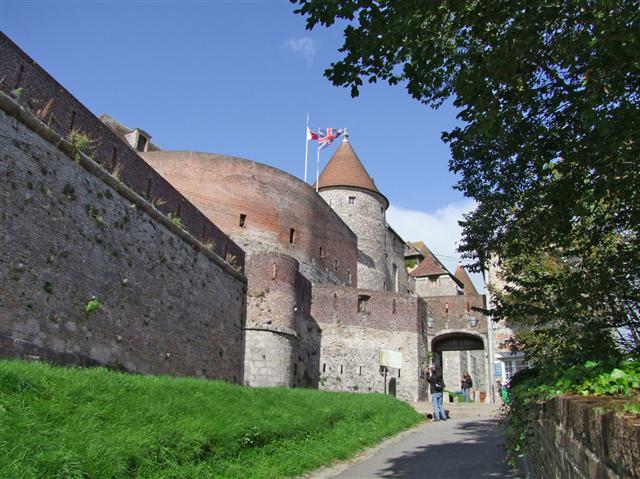 From where he had an excellent view of the festival in full swing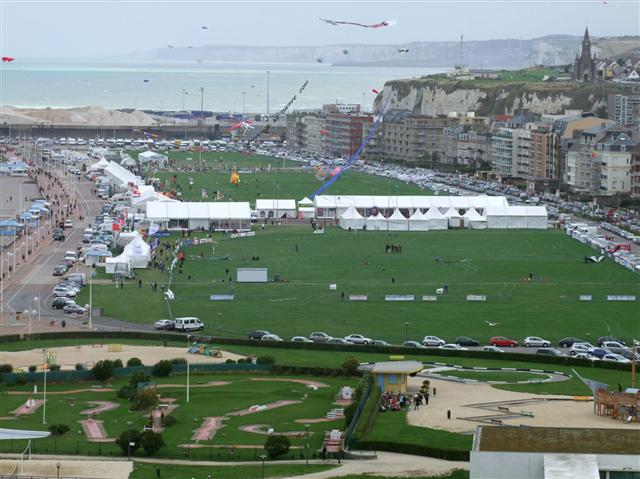 One day, John found Danny Rice in the Nepal tent splitting some big bamboo.
It was for framing a skin of 6 sheets of lovely handmade Nepalese Lokta paper.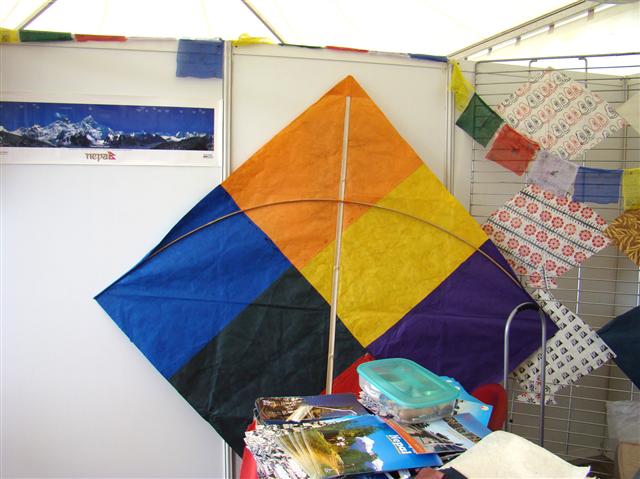 John trimmed the bamboo and made this enormous fighter ....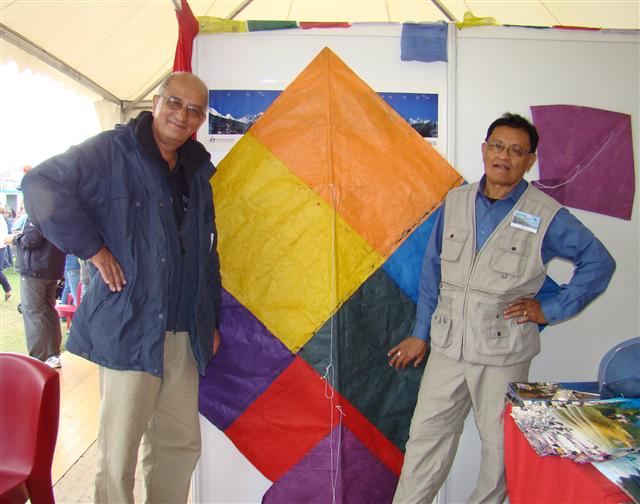 Constructed with care. Ramesh and Nirmal stand proudly by the kite

The Majestic Kite flying


For John, constructing the kite and flying it
in such genial company marked the high spot
of the whole festival.

On another day, we found that Irene had knitted a Rokaku for Nest.
With ingenuity, the thing was made to fly....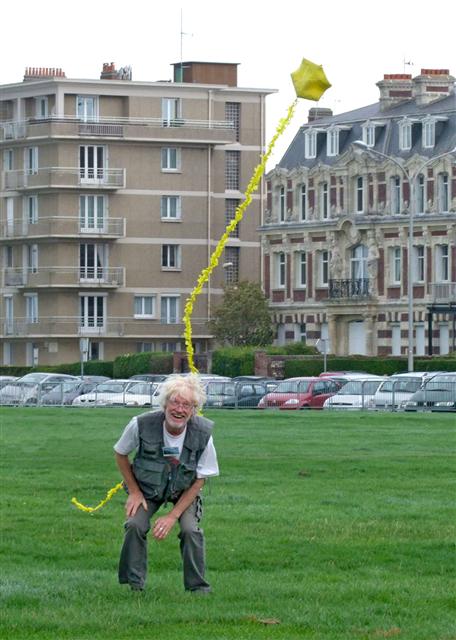 Just look at the delight on Nest's face
as the only knitted kite in Dieppe actually flies!

Minkey had to fly his kite most days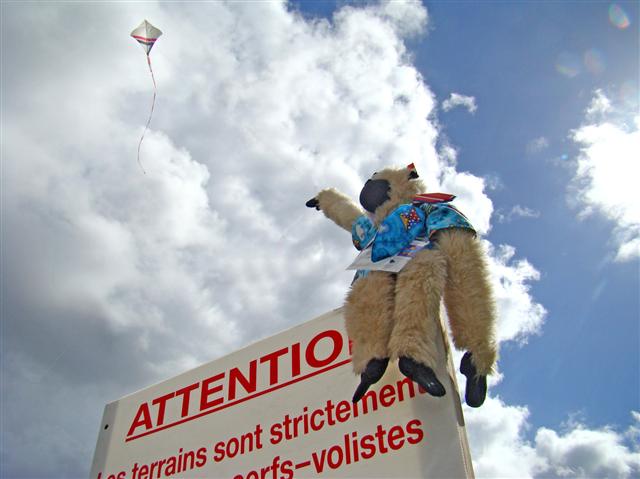 As usual, everyone was delighted to see the little fellow
showing just what an accomplished kite flyer he is.
to see him in action, click on picture

We walked around Dieppe and saw the sights.........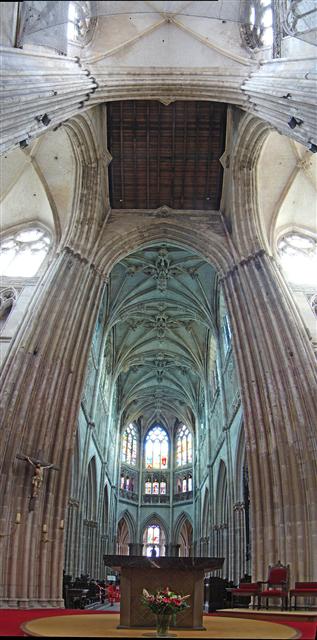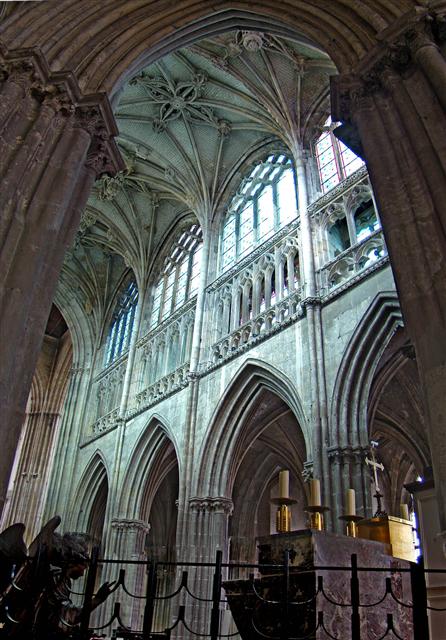 Arty shots in St Jacques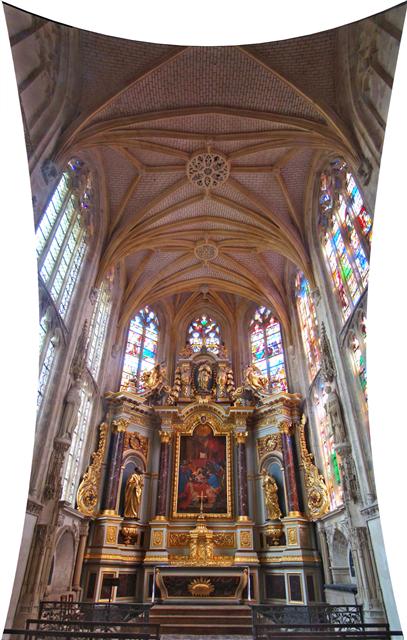 The Lady Chapel at St Remy - Eglise St Jacques

Dieppe Old Harbour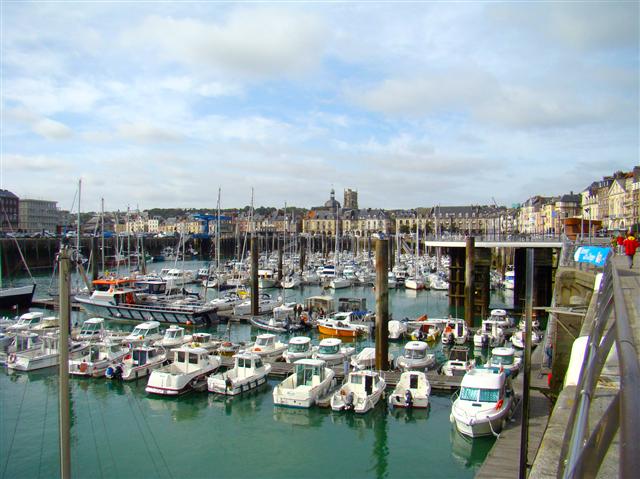 By day and...... by night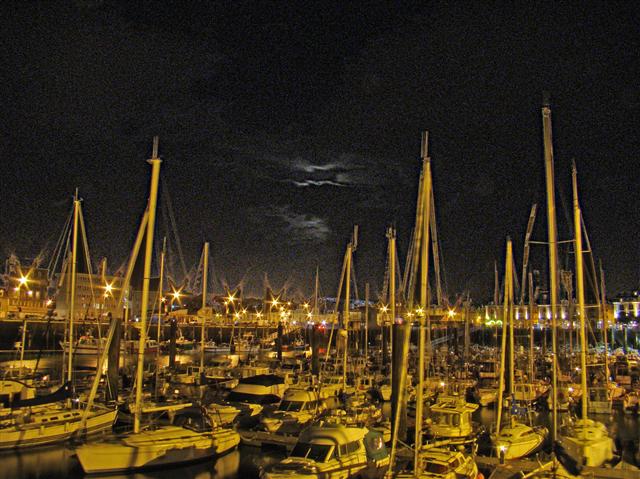 None of us did any kite surfing - but he did

and none of us played the Saxaphone - but...
Polina from the delightful Tarasenko family did.


On Thursday, Alan and Anne treated us to a super seafood meal.
If it came from the sea, we ate it.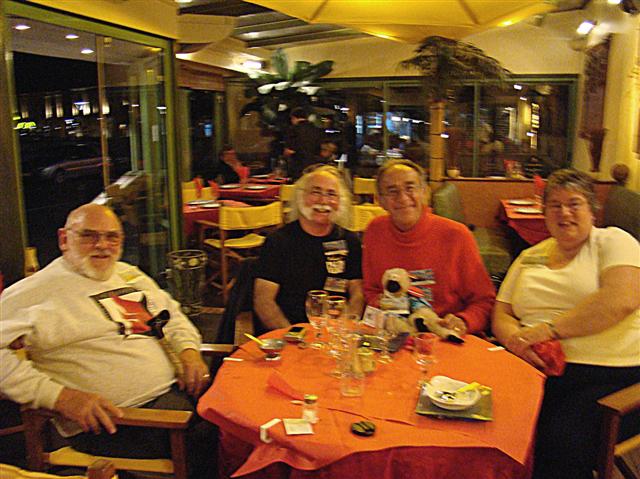 On the Friday, we took Minkey to the Party..


But as usual, he overdid it...

and ended up having a swinging time!

He really is a Party Minkey (note the excellent kite flying)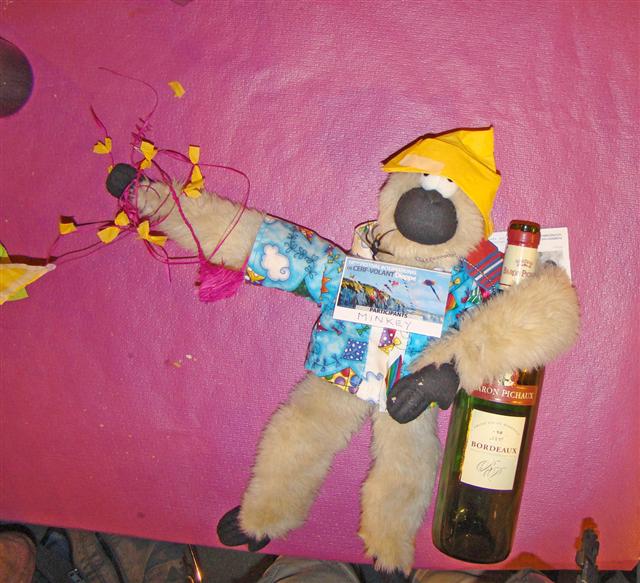 We saw People making kites - Note how Abdul is wearing his Gitpatch with pride.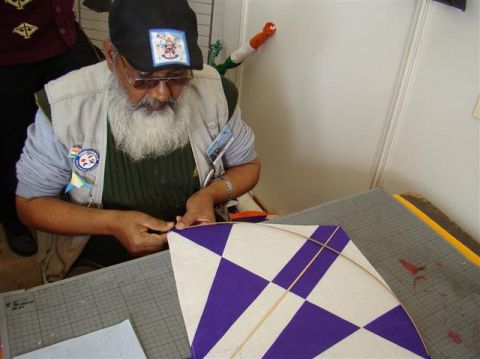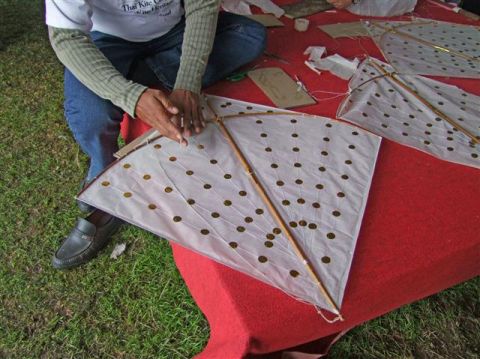 Thai mystique: to make Papkao kites, you must take your left shoe off.

We saw all sorts of kites..........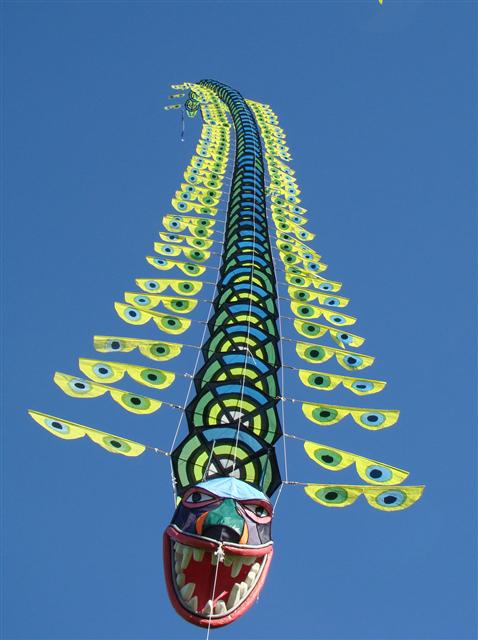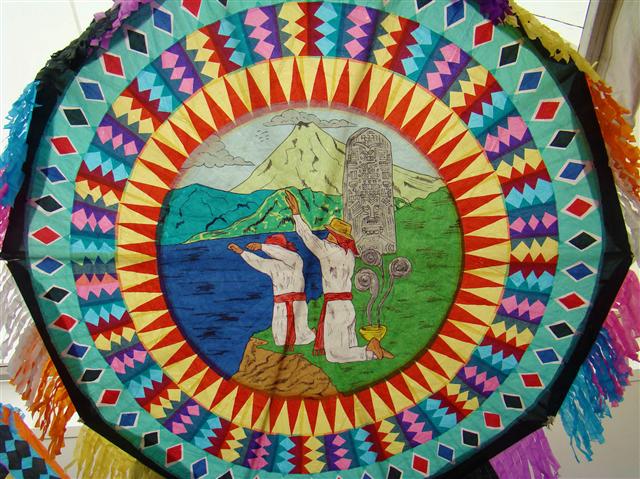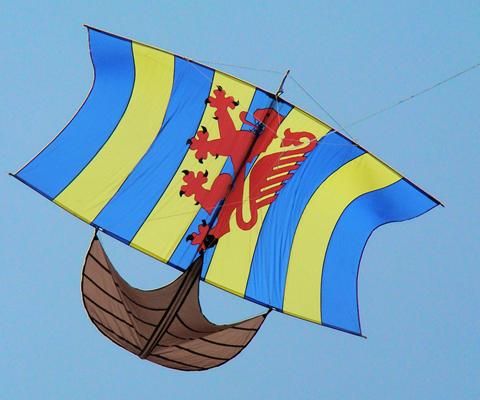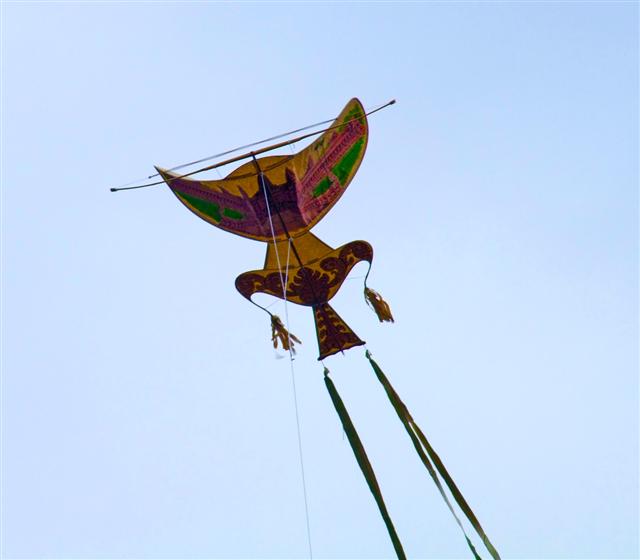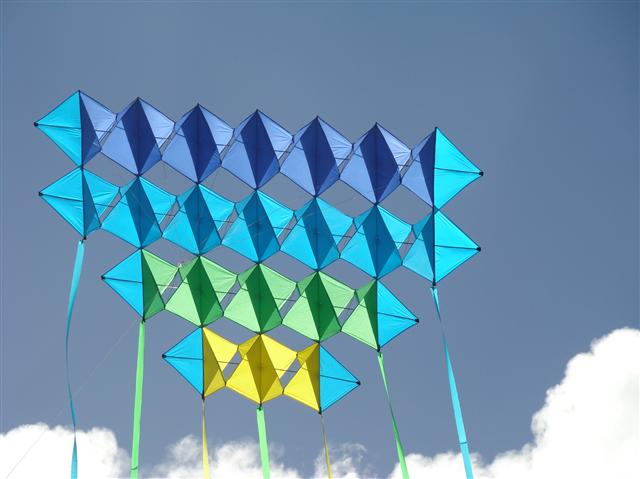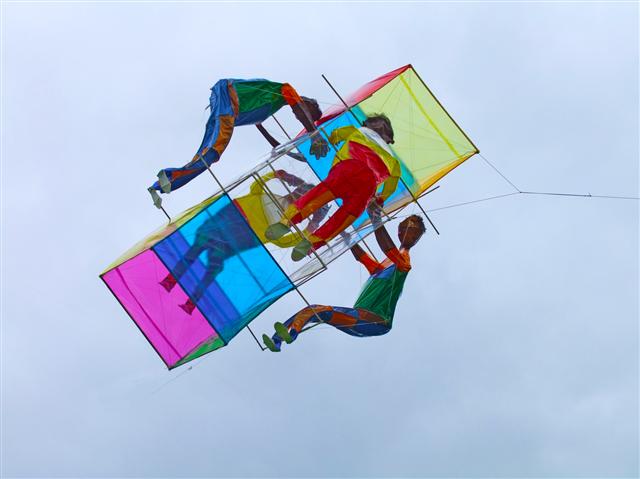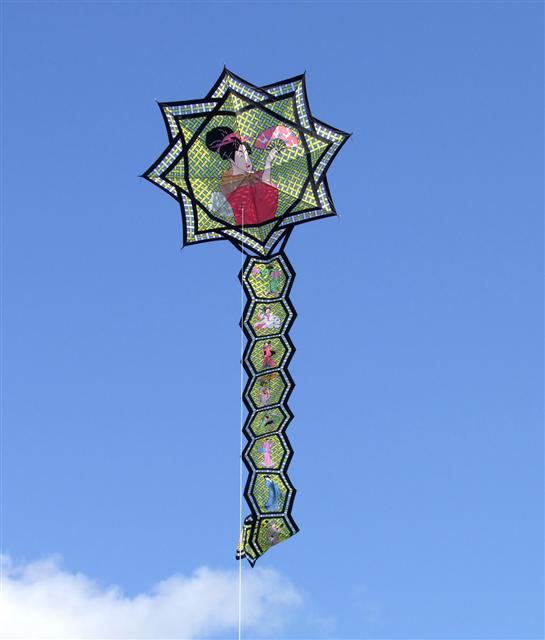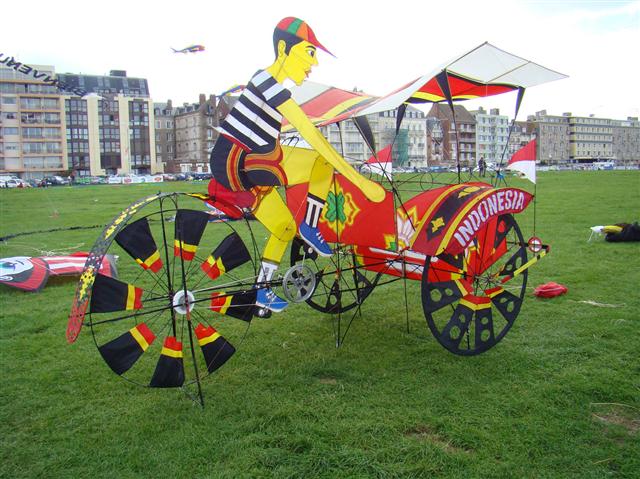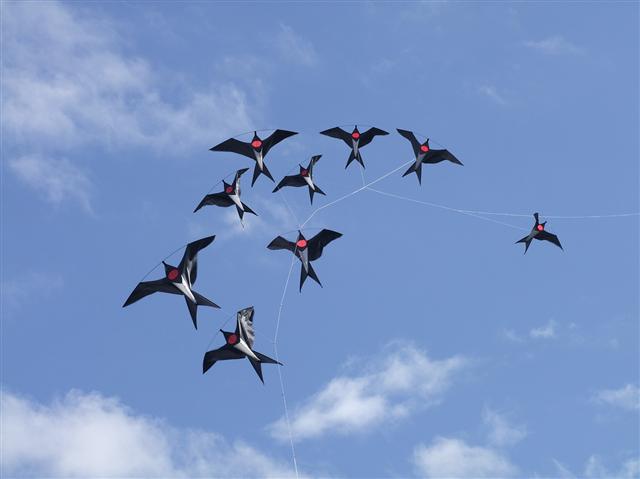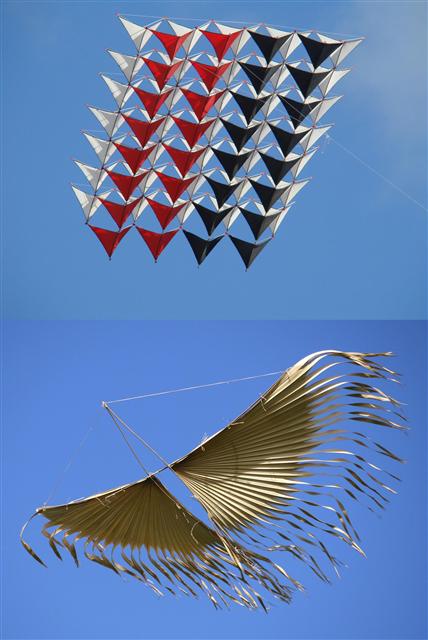 So many wonderful kites to see

Minkey kept on meeting people from all over the world.....
Meeting Angela and Edith from Austria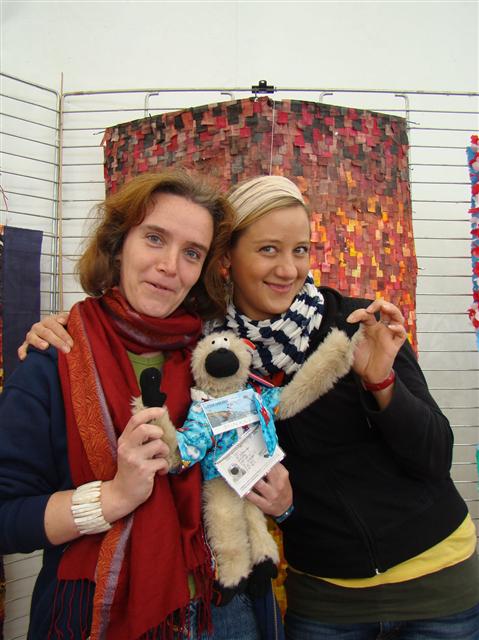 Here he is in Taiwan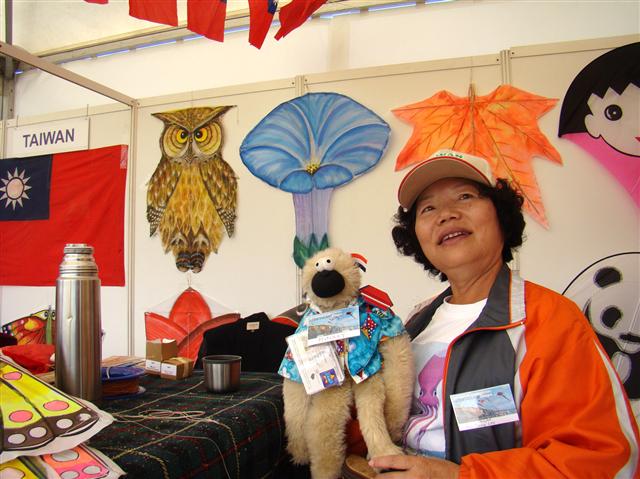 We saw the spectacular Stilt Dancers...
Click on the picture to see them go!



One is a boat and the other one is a boat. Which is which?



After a super week which whizzed by, it was time to go home
First, we had to leave some little kites and a Thank You note behind for Steve, Jane and Maddy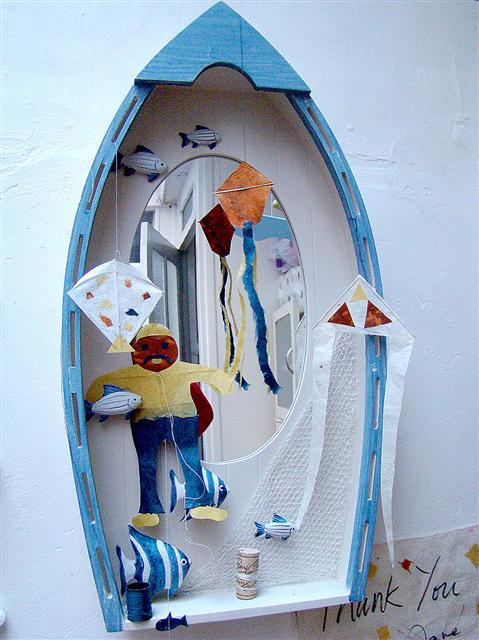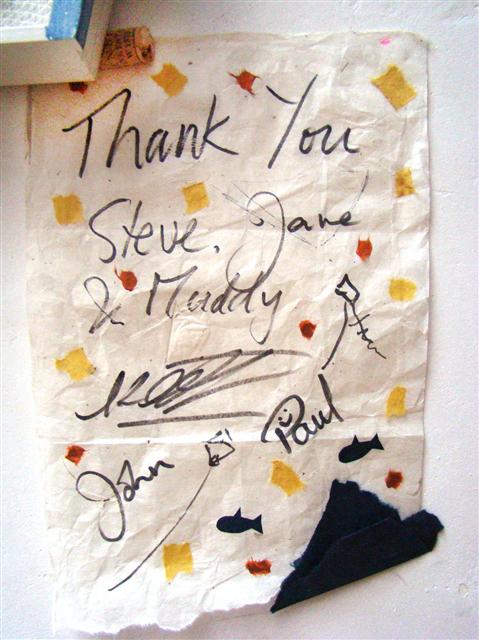 Then to the ferry....
There were many, many police people there. Of course, Minkey had to befriend a few.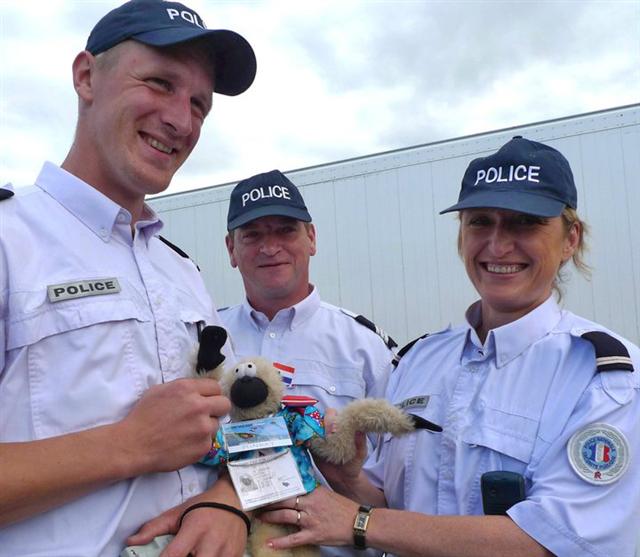 Goodbye Dieppe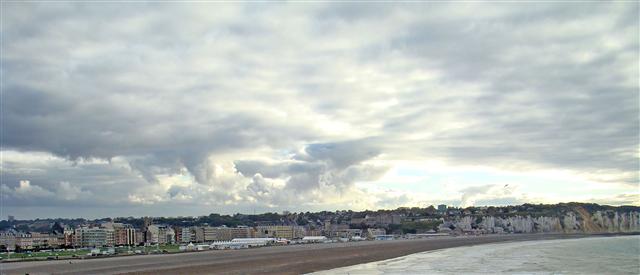 Do you see that little kite flying off the back of the ferry?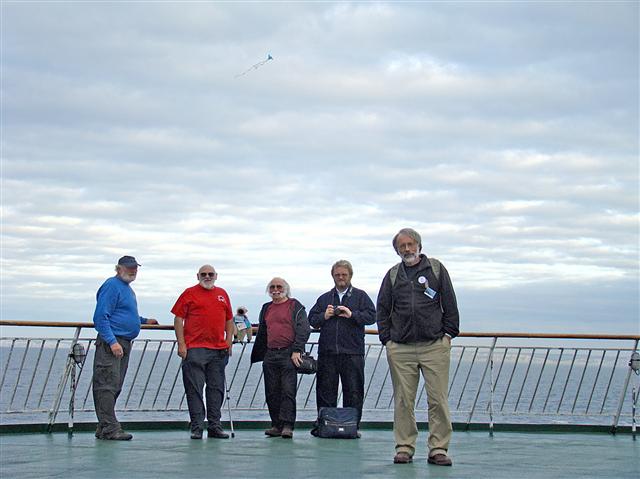 It is a little workshop kite that Alec brought along.
It flew all the way from Dieppe to Newhaven.

Minkey was flying it of course.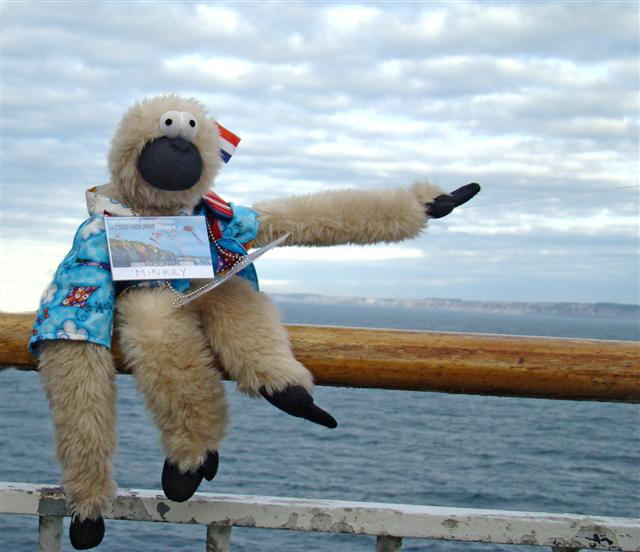 And the sun went down in a blaze of glory....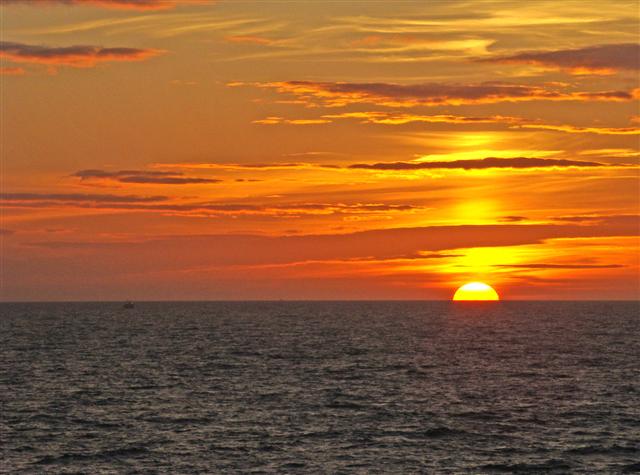 Nearly home - Minkey's little kite flew up and said hello to the moon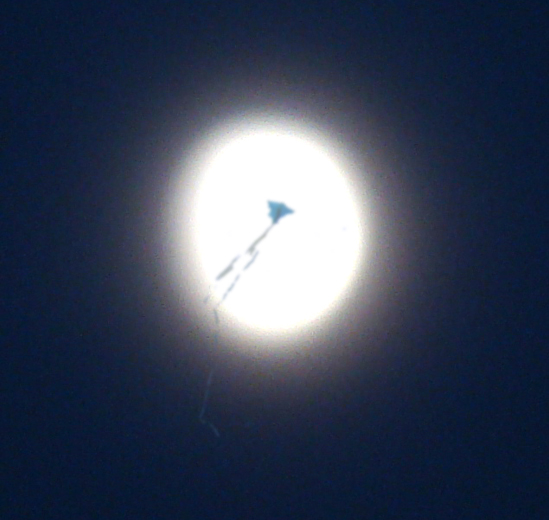 Another wonderful Dieppe Festival.
Thank you Sandrine and all the team at Dieppe Capitale du Cerf Volant



Looking forward to the next time in 2012.


"À la prochaine!"

Photo Albums:-

White Horse Kite Flyers