As we arrived, we notice Big John's Mega balloon, so we had to have a look, do you know the
Mega Balloon can be blown up to 24ft ... Yes 24ft. If fully blown up with Helium this balloon
would lift a man! Luckily for me John didn't have enough Helium Cylinders to fill it up...

John also showed us his Fantastic Helikite, a kite with a helium balloon attached, so even when
my No Wind kite will not fly, John will be able to grace the sky with this breath-taking kite!
For the bargain price of £98.00 + C&C + VAT, excellent value. For that, you even get flying line!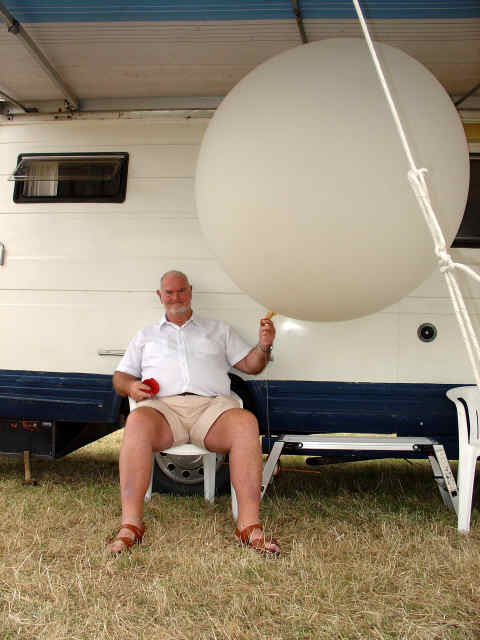 Photo reproduced with very kind permission of the Grumpy Old Git in waiting JB aka the A

Time to fly a kite, I thought it would be a good idea to put up my J.Browning beating No Wind Kite,
thanks to the modifications that Danny Rice made to her at Teston, she went up a treat.
Now, Glenn's kite had been flying all afternoon, but as always at kite festivals my kite line found his!
OK, I won't fly My John Browning beating No Wind Kite... (mumble, mumble, discontent)
---



Let's move on to the rocket launching.



Ever since Margaret & Malcolm had introduced us to Burst Disc rockets, at Roy & Hayley's Jolly up,
earlier this year, we had been looking to push the boundaries, we moved forward a little at Teston
with The Little Beauty (small compressor) + (thanks to Big John for the loan of the Generator)
working on the theory that more pressure means more height, means more excitement, we wanted
to go further, to do that we needed a pressure cylinder that could take considerably more pressure.

After a little research & digging about at work I found the appropriate wall thickness tube
and some large lumps of stainless.
We now have a launch cylinder capable of 2000psi .... that should be enough for the time being.



The engineering and science theory was very simple, but would it work?



Air from Little beauty powered by Big Johns 3Kw Generator would fill the launch cylinder with air up to 150psi, (10bar) giving us the volume of air to launch rockets. This air pressure would be maintained via a non return valve. Then with the use of a 750psi (50bar) pressure test hand pump the air pressure would be increased in theory up to 750psi, that should do.

Tests at work had proved that a burst disc made from a beer can, could be burst. An email was sent to everyone involved to start looking for suitable material for burst discs, we needed to find the optimum material.
Now at Kingsfold we had the room to test fire a rocket, all the equipment was collected, The Stainless Steel Rocket Launcher, Little Beauty, Big John's Generator, The pressure test hand pump, the cables and hoses necessary to connect everything and of course the BIG SPANNER.
Many hands make light work and very soon all was ready to go.
Thank you to everyone who helped, it doesn't take long for the launch team to multiply.
Alan had cut several beer can burst discs, so we decided to start there. One of these discs was placed in the launch cylinder adaptor, cover replaced and launch tube screwed in and tightened with the BIG SPANNER.
Are we ready?
Turn on generator, remember to turn to run once started, Little beauty starts to pump air into Launch cylinder 70psi.80psi,90psi,100ps,110ps ... that's the limit for Little Beauty
Now it's the hand pump's turn, pressure soon starts to increase 150psi,200psi, 250psi,
and at about 300psi BANG everyone looks skyward ...can anyone see it, WOOWWW where did it go? ...
then we realised the rocket, a cheap Stomp Rocket had not left the launch pad ... how come ?
...the sudden pressure release had split the plastic tube ... never mind we'll patch it up with Duck Tape (Thanks Matt)

Tape repair done, lets try again, this time someone kept an eye on the rocket , this time we blew it to smithereens, we never did find the nose cone.
This Experiment proved that Stomp Rockets are not strong enough; we will have to wait for Margaret & Malcolm and Malcolm's proper Rockets.

It was only later as we went over experiment details, that we concluded that the slug from the centre of the burst disc, remember this was from a beer can, tore through the rocket like shrapnel. OOPS!!
---



Time for a beer and a kite fly



Alan & I joined Janet & Big John at Glenys & Glenn's camper for a buffet supper
Thanks go to Glenys & Glenn for the fantastic spread and the great company, this is what makes kite festivals special.



SATURDAY


Saturday dawned in mist; sunshine through the mist over the lake looked absolutely fabulous.




I flew my John Browning beating No Wind Kite in almost no wind, I'm sure John will be impressed.
She carried on flying during breakfast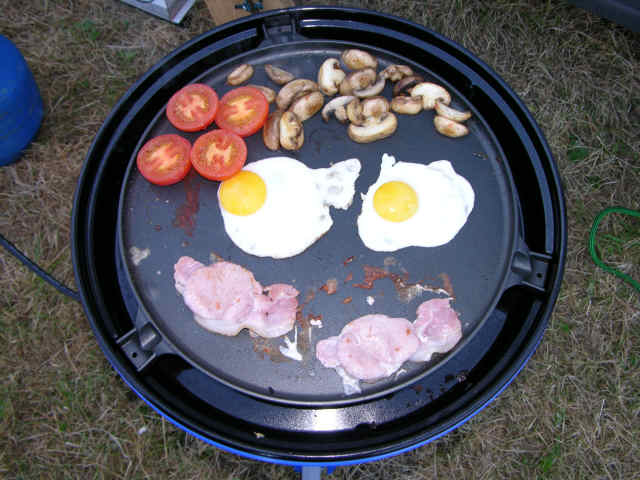 We were suppose to wait for John Browning for breakfast, but Alan and I were too hungry, not only that, Alan couldn't wait to try his new Cadac, so on went the Bacon, sausage, mushrooms, tomatoes, eggs and the left over boiled potatoes from Glenys & Glenn's buffet, that should just about see us through till lunch.

As we were washing up John phoned, to say he's ten minutes away,
he was very disappointed to hear he had missed breakfast.

We couldn't do that to John and by the time he had arrived his breakfast was on the table
complete with toast, orange juice and coffee.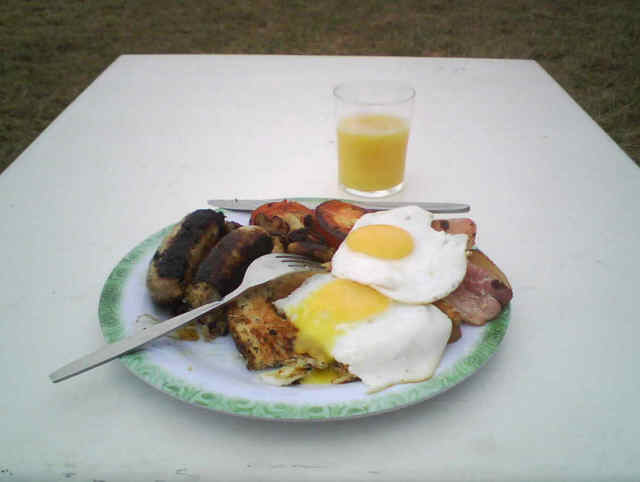 (Don't tell him we ate all the chips) He seemed to enjoy anyway.

I could not convince John to fly his No Wind Kite so that the two No Wind Kites could fly
along side each other, do you think he's worried about my kite?
---

We had hardly finished clearing up, when Margaret & Malcolm arrived with rockets.

The excitement was too much, we had to start with rockets.

All the gear was assembled on the floor, then excitement gave way to disappointment,
Janet and Big John had not surfaced, how were we going to pump air into rocket launcher?

Malcolm saved the day, by produced a cracking twin cylinder foot pump.
It was decided to use plastic bursting discs, no shrapnel, John B had bought some acetate which proved to be excellent bursting disc material.
In went the air, then boost pressure with hand pump, we were amazed we managed to get to just under 300psi
.... BANG ....Yes rocket had left launch pad .... where is it? .... can anyone see it ? ....... there it is!
WWOOOWWW!!!!! ........ That was FANTASTIC!

I don't know how many we launched, but it was a lot and our enthusiasm for more did not subside
We must have sounded like 6 year olds at a birthday party.

Thanks to John Elvin for the loan of his foot pump, after Malcolm's collapsed, and your assistance in pumping up Launch cylinder, I should also say thank you to Glenn for the use of your 12volt pump, how come it took you so long to get it out? What a cracking pump I must keep an eye out for one.

1 ½ Hours of experiments maintained the excitement, I must apologise to our neighbours,
We must have been rather noisy. What do you expect with kids?
---

Now was the time to try the Liquid Nitrogen, we had hoped this may fuel the rockets via bursting discs,
but as it happened it could barely blow up a balloon, never mind we'll think of something to do with it.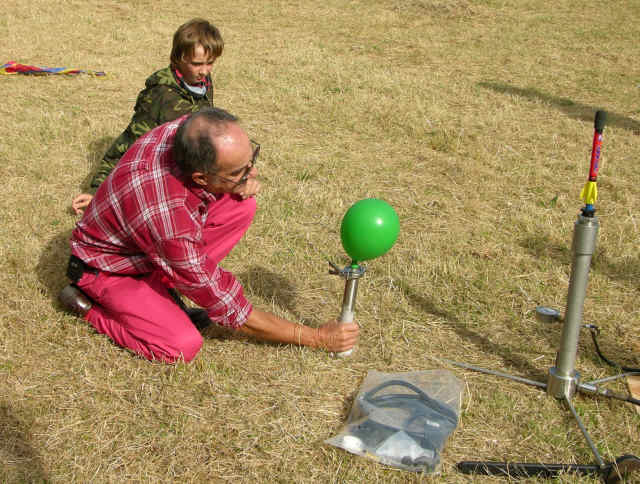 We needed to calm down for a while, the wind had started to pick up and we were here to fly kites,

I thought John was cheating a bit flying Big John's bargain Helikite - a kite that needs Helium
to keep it up can't be called a No Wind Kite, it's a helium balloon stuck to a kite, which is cheating.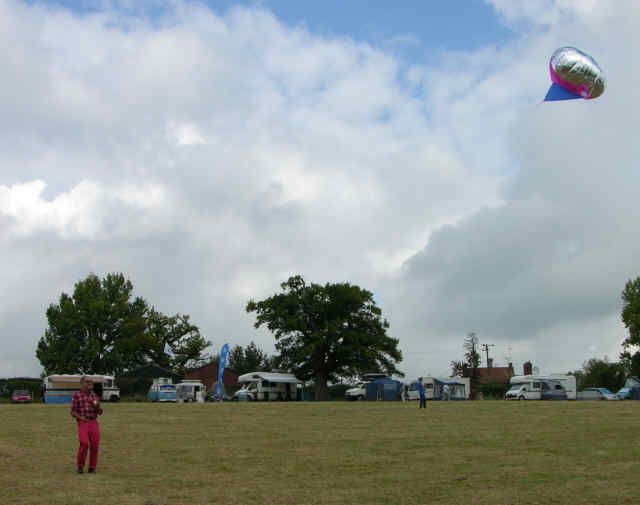 Many of you must be wondering how high we managed to launch the rockets, so are we.
So many of the rockets launched went out of sight, the only criteria we had to base the height
achieved, was by time the rocket took to return, some took a very long time.

We must work on a method for recording the rockets height, any ideas?
Something to research over the winter months, something like rate of rise against gravitational fall
over time in air, well you know what I mean, there must be someone out there that knows the formula.
I think we can disregard wind as we only do this when there is not enough wind to fly kites.

Quiet returned to Kingsfold, as we all flew some kites

Later we visited the engine exhibits, you never know what you might see or find at Kingsfold,
As usual the Grumpy Old Gits took great pleasure in perusing the tool stalls.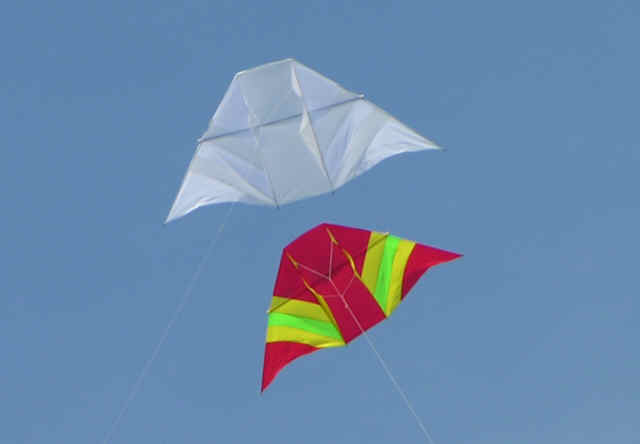 We had a lazy afternoon just flying kites, Glenn and myself were sitting on the grass watching the kites, I remarked "what more could anyone want, Fantastic weather, steady wind, great friends, kites gently fluttering in the breeze, the world at peace. "Just one thing missing", "What's that" replied Glenn. "A beer" Thanks Glenn for fetching them.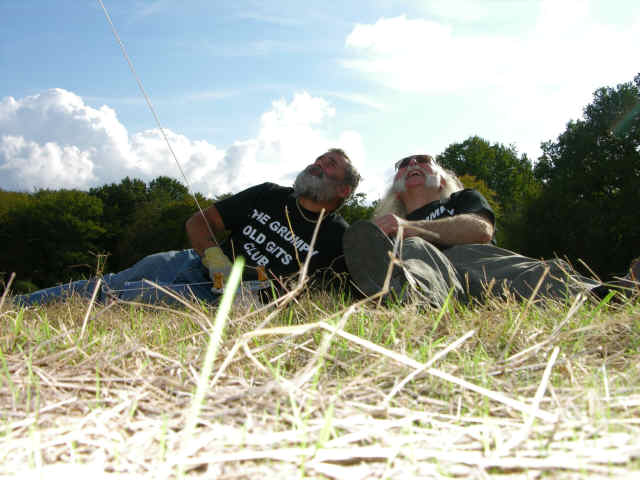 Later we were joined by Margaret, she too wanted to chill.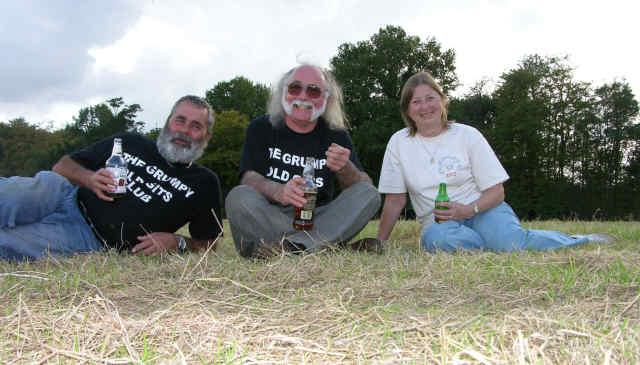 Alan took a call from Anne, the exhaust on her car was blowing badly, not a real problem,
until we realised Anne had tonight's dinner. Luckily a very nice man in Redhill managed to patch it up
Well done that man!

A BIG THANK YOU to Anne & Alan for the Fantastic Shepherds Pie Dinner and a BIG THANK YOU to my Frances for the Apple & Blackberry Crumble, it's amazing how all these things taste so much better alfresco. Shame Alan forgot the Gravy.

During dinner we were entertained by the lights on kites, especially Les Reed's kite which had lots of sequenced LED's, it looked like Close Encounters. Something else to research over the winter months

While everyone else was deep in conversation John Browning and I decided to checkout the saloon over at Deadwood, we nearly got lost in the dark.
John was surprised by the new buildings; The Trapper now has a cabin. The Lamp shop was open and the log fire looked very inviting, so we had a wander round, not that there is a lot to wander round, but he does have great collection of oil lamps, if you ever need spares for your old oil lamps he's the man to see.
Further down Main Street we found the Saloon, it's a great feeling to swing those doors, and strolled up to the bar. Once there we enquired about a drink, strictly speaking you're supposed to take your own, but after a donation was made we had a drink.
We were thoroughly entertained by the cowboys in the bar; it's a serious business being a cowboy, almost as serious as being a Grumpy Old Git.
We watched with incredulity as the lady behind the bar mixed drinks, ready for when her guests (can't call them customers) arrive, after the Hoe Down. After mixing Cactus Juice, she started to work on the Mississippi Mud Slides , ½" of Kahlua, 1" Bailey's or similar topped off with Vodka, as I was thinking you must be mad to drink that, she slides two of them over to John and I, Oh dear, I think that means we have to drink them !!!!

John explained, (he's obviously been here before) you have to down it in one, what the hell am I doing here? Why can't we just slide out the door ... too many people. Well as they say, there are things you must do before you die, I think this is one of them. What the heck………….Gulp…………..OK not the finest drink if ever had , but definitely not the worst. And maybe if I end up in the saloon at Deadwood next year I'll try another.

John and I returned to Alan's camper to find a crowd had gathered around Big John's heater, slowly everyone left for bed
and John, Alan and myself retired to Alan's camper for coffee and Southern Comfort. The only way to round off a perfect day.



SUNDAY



Needless to say I had a superb night's sleep - Slept in late, can't think why!

Alan suggested it was time I tried the Cadac, I'm sure that was so he didn't have to cook breakfast,
OK where do we start?

"Alan what are we going to do with all these sausages and bacon?"


(John bought sausages & bacon even though he was told not to)
very simple reply "Cook 'em!" ..... well we ran out of room on the cadac - can you believe it?
Seeing Les Reed up the hill we decided to invite him to breakfast and if anyone else had wandered by, they too would have been invited.
Les bought his mini Cadac so we had some where to cook the eggs. Can you imagine it four Grumpy Old Gits slaving over Cadacs? Glenn eventually surfaced so was forced to have breakfast with us, not that it took much persuading.
During breakfast we were lamenting the fact that we had not had any pancakes this weekend. Les soon remedied the situation, he had pancake mix enough for all, so not only did we have a cracking breakfast we also had dessert, can't be bad. Thanks Les they were great!

Disaster Struck, Big Johns Helikite had been tied to the underside of his awning, but as the wind picked up the Silver helium filled balloon parted company with the kite and floated gracefully up over the Kingsfold site, No doubt later on today there will be people convinced they've seen a UFO.

Not being able to fly my Purple Kelvin Cody yesterday, not enough wind, I was determined to fly it today
and boy does it fly beautifully, I still can't believe it's mine, I'm such a lucky boy.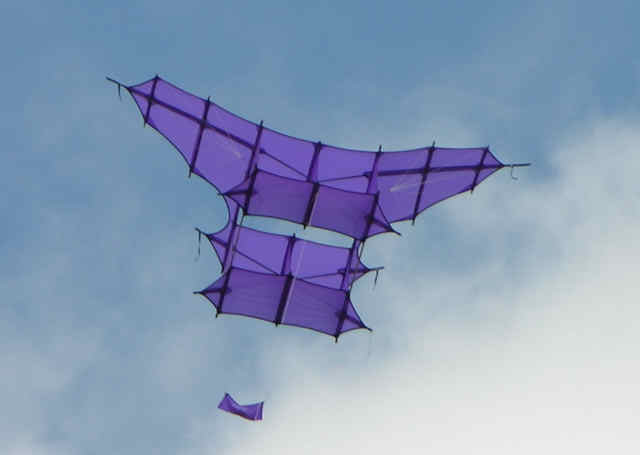 Thanks again Glenn for your help Cody's this size take a lot of launching.

Glenn already had his Mega Sled Delta flying, don't they look great flying together.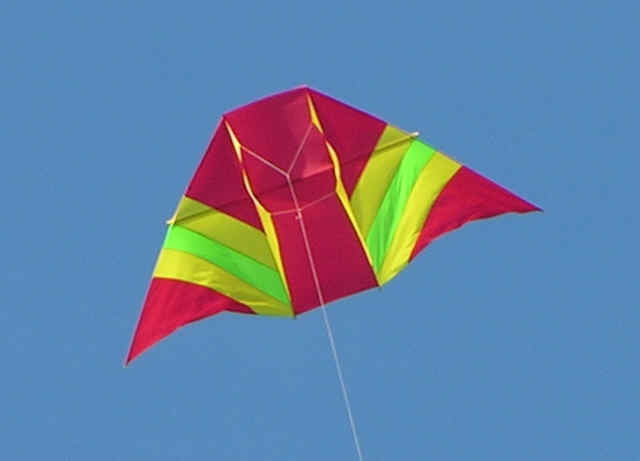 Also a thank you to Paul Morgan for the Mega Sled Delta, Glenn's chuffed to bits with it.

Apologies to Paul as well, we managed to break my White Mega Sled Delta, bringing it down on Saturday night - well you try bringing a kite down in the dark.... You can rest assured I've mended it already, I can't be without my White Mega Sled Delta.
---

With no rockets, (Malcolm took his rockets home yesterday) we will have to find something else
to amuse us... Well you know us.... it has to go with a

BANG



John had been desperate to find a Bucket or barrel to fill with water, so we could carry out
another vital science experiment. The Water trough at the top end of the field had been rejected,
I'm sure Dave McArthur would not have minded his Trailer tent being soaked.

After much pestering from John, I relented and let him have my bucket, the one I planned to mix bubble juice in.
John went up to the Trough to fill bucket with water, you should have seen the wild life in it,
I'll rephrase that, the dead wild life

John already had the 1Lt Coke bottle required, so armed with his flask of CO2 we walked to the
middle of the adjacent field, the coke bottle was half filled with water then topped up with
a lump of CO2, the lid screwed down tight, then the bottle was dropped in the bucket,

we moved away swiftly to await the outcome

Lots of creaking of plastic .... more creaking .... taking it's time .....

"do you think we should have a look?" ...."not yet!"

....finally BANG

- water everywhere, and a great cheer from all the onlookers.

Well.... that went well ..... We need a bigger bottle!

Bigger bottle acquired, experiment repeated ..... again lots of creaking ......

the anticipation is unbelievable

everyone is watching bucket intently ...... more creaking ..... she's going to blow .....

even more creaking.....

BOOOOOOMMMMM!!!!!

Not only had the CO2 blown the bottle up, it had shattered the bucket.

I think that concludes our noisy experiments for today.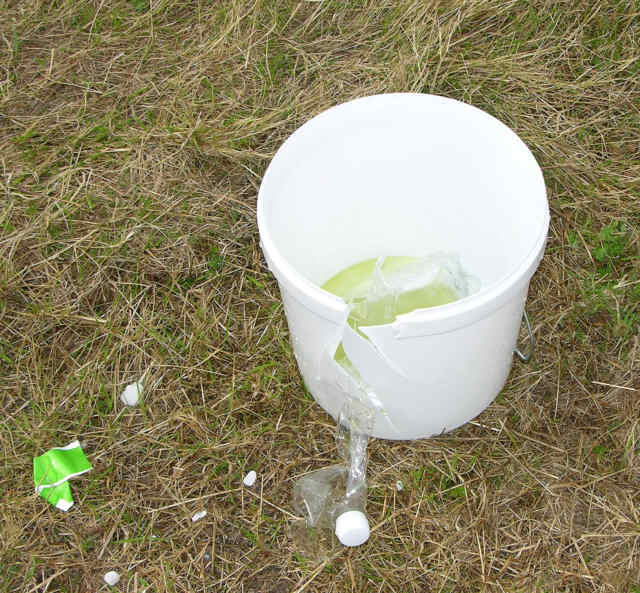 What am I going to mix my bubble juice in now?

What followed was brilliant, hearing the noise, the Sheriff of Deadwood and his deputies
appeared in the field ready to arrest John, who was posing with the destroyed bucket.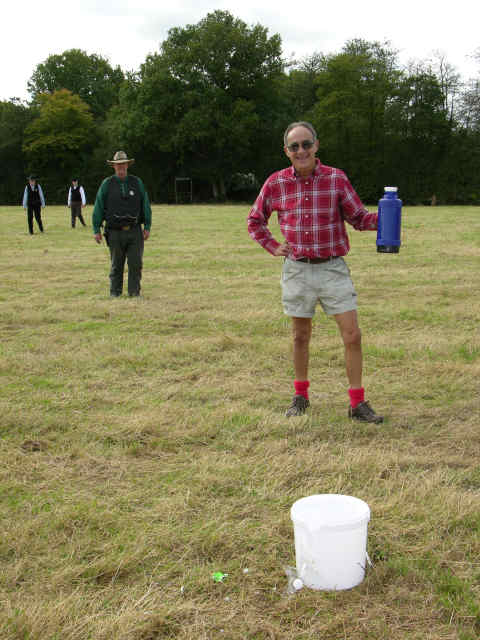 They had thought they were under attack, they believed the sound to be a cannon!
After explaining the science John was allowed to go free. Have they got a Jail in Deadwood?
---

Less noisy experiments from now on. We tried a CO2 Jet boat with mixed results,
we will have to come back to this one at a later date.

The most spectacular quiet experiment was Liquid Nitrogen thrown over the pond,
very eerie and atmospheric, mist hovering over the surface just like a horror movie.

During the morning International Kite Rescue performed a spectacular rescue of Collin's Delta
A magnificent endeavour by John Browning and his dare devil team,
Shame Matt had to climb the Oak Tree to complete the rescue.
Well done Matt, where would International Kite Rescue be without you?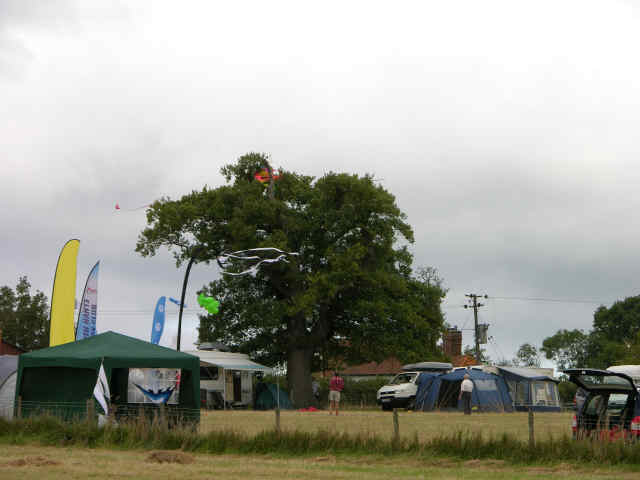 Les having spent nearly half an hour putting his Cody together,
just to have it blown from the sky as a spar popped, floating not quite gracefully down to earth

Now comes the time to pack up and clear up, this is the worst part of a wonderful weekend,
folding up kites, winding up lines, pulling out stakes, trying to work out how to put everything
back into the Pick Up, why does it always seem as if there's not enough room to put it all back?

People are already saying good bye and leaving,
I don't want to go it's been far too good. Just remember we can do it all again soon.

Finally (Yes I know it went on a bit, but what do you leave out?)
A HUGE ENORMOUS THANK YOU
to all the people, little and large that organised a Terrific weekend, I hope you let us back next year



Keith Boxall GOG



Many thanks to Anne, Alan & My sister Jan for proof reading.

Just to whet your Appetite - here is the revised launch set ready for Ardingly