Gittesden: 9-10 July 2016

Soutie Pete arrived on Thursday after a final checkup on his hands at QV Hospital East Grinstead
which has a world-wide reputation for skin grafts since the WW2 days of The Guinea Pig Club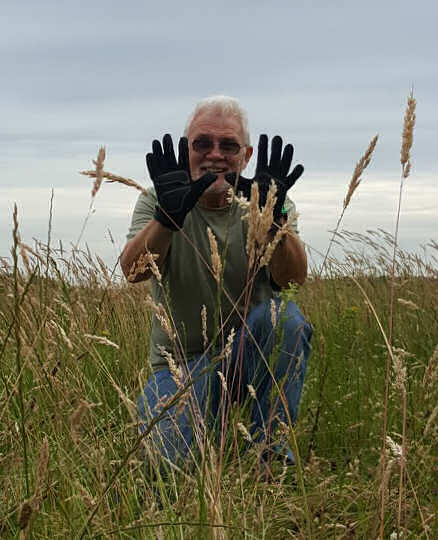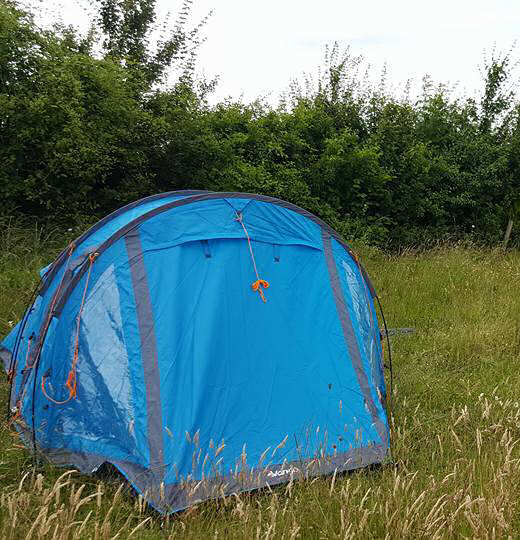 We had hoped he would mow the grass while he was there, but.... he just sat & waited for sunset!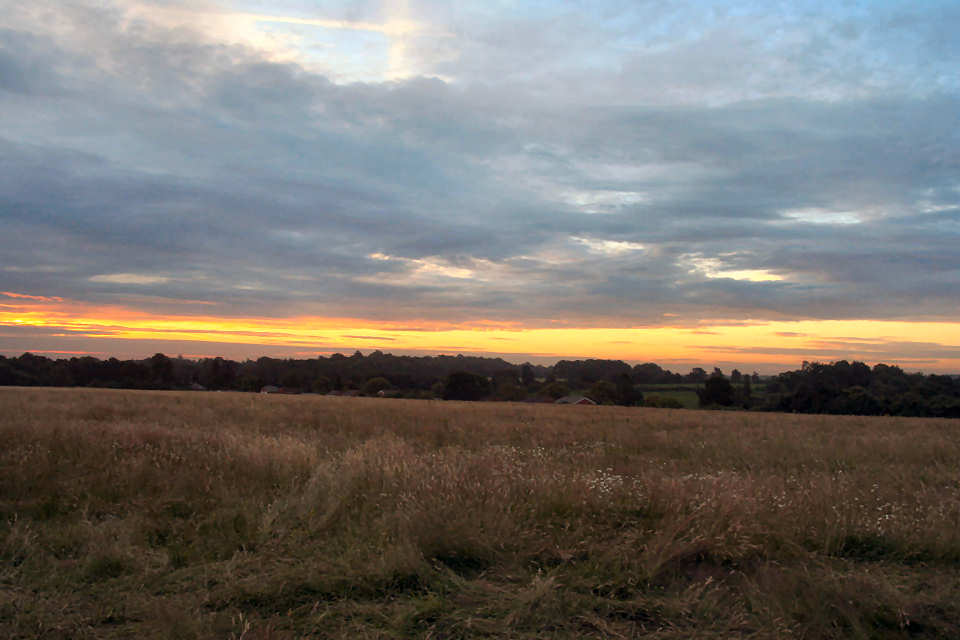 ---

Friday, and the main body of Git troops arrive - Andrew & Sandra with their caravan, Keith
in his van chock full of all sorts of stuff (some of it kite related) and Alan O in his camper van.
Then David P from Cardiff, and Kim & Andrea from Avebury

Dicky finally arrived about tea-time, loaded down with extra food & drinkies "just in case"...

Friday evening - Dicky & Keith got a massive takeaway from

Black Dam Chinese Kitchen


The food was so good that nobody thought to stop and take any photos!

This was the first outing for our new 12 Volt Git Gazebo ceiling light
- so the party can continue on battery power after Lil Genny goes to bed!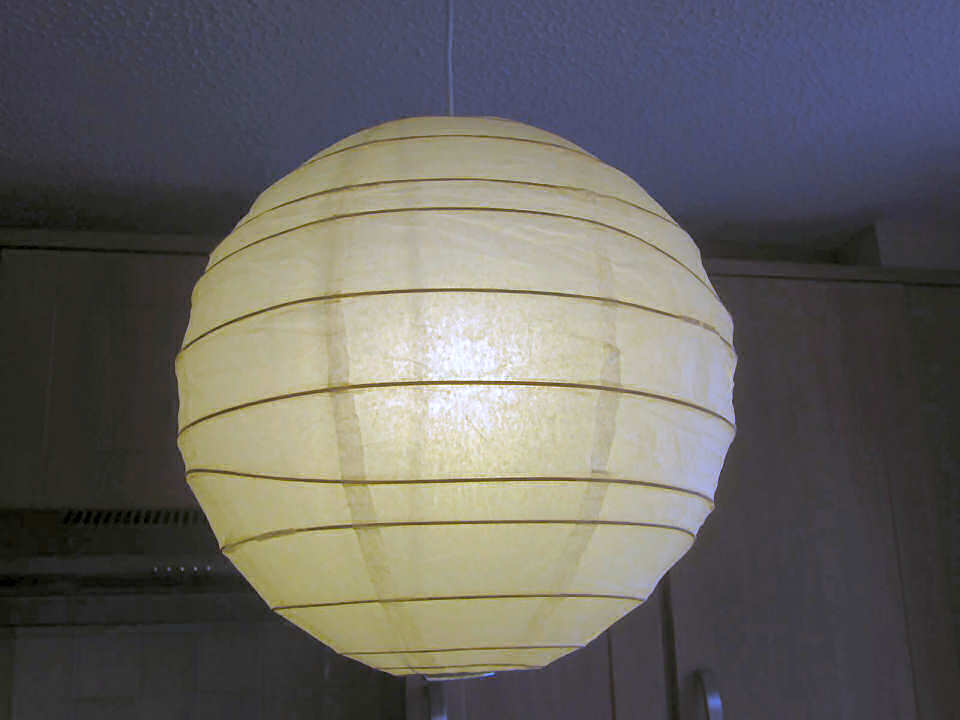 ---

Early on Saturday morning - Git Camp au naturel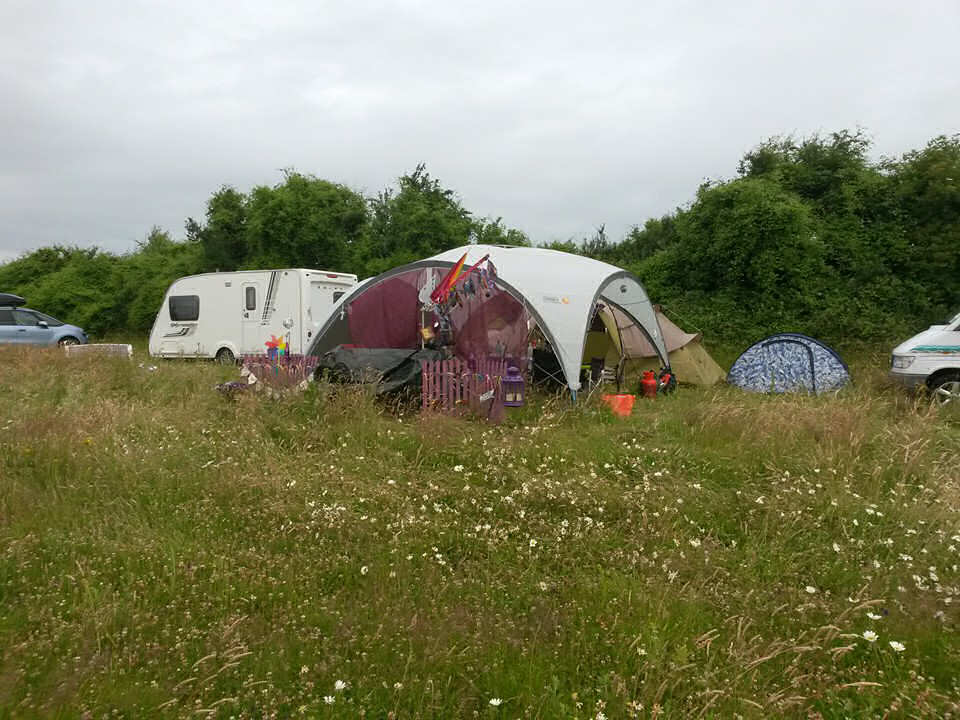 Saturday morning 7:00am - Dicky ferried Keith, Alan O + Kim to Asda to buy supplies for the 2 days...
but their bakery was closed for a refurb - so off we go to the 'nearby' Lidl for 44 cheesy bread rolls
(still hot from the oven) and even more food! Then quickly back on site and fire up the Cadac


Breakfast menu:- Cheesy bread roll, sausage, bacon & mushrooms, with lots of OJ and a nice cuppa

A big thank you must go to Andrea who looked after all the veggie catering for herself and Pete

Meanwhile, Alan C was charged with collecting Nick from the railway station at exactly 08:03am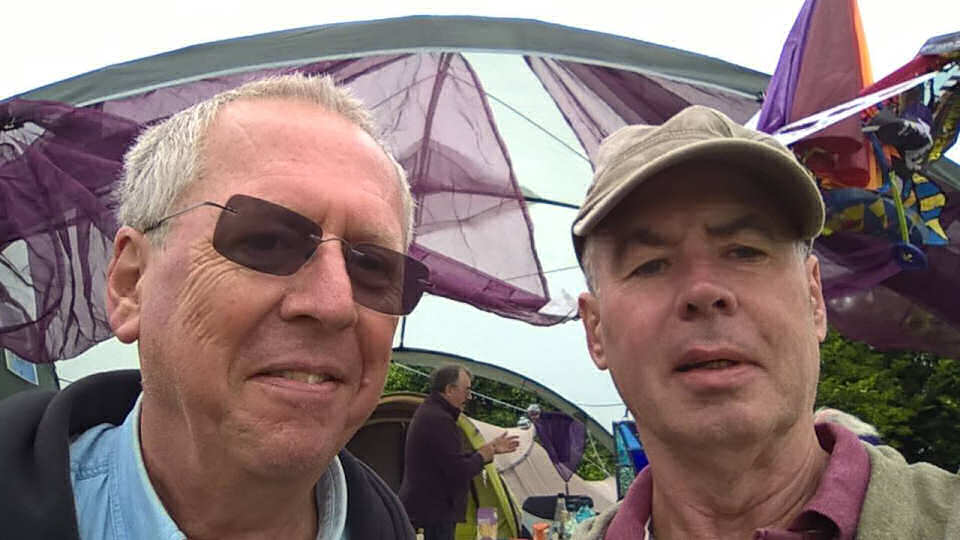 Alan was also kind enough to bring a nice big LCD monitor to replace Dicky's deader - Thanks Alan!

Relaxing after a strenuous breakfast - saving strength for the evening blowout to come!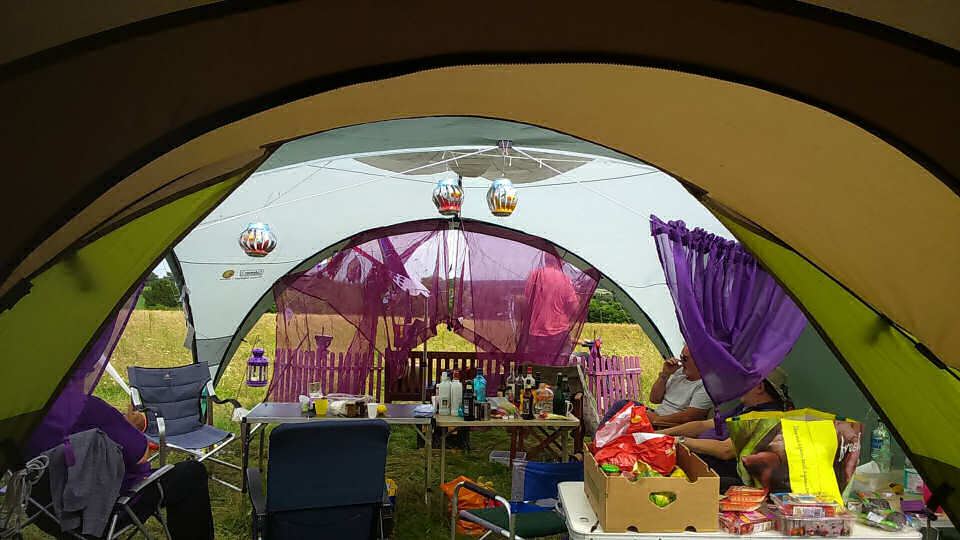 Why bring a load of candles to Gittesden? Surely not just to BURN them?
Oh no... nothing so boring... nothing so safe...
What is the worst thing you can throw onto an oil or wax fire?
What does your friendly Fire Safety Officer tell you to NEVER EVER do???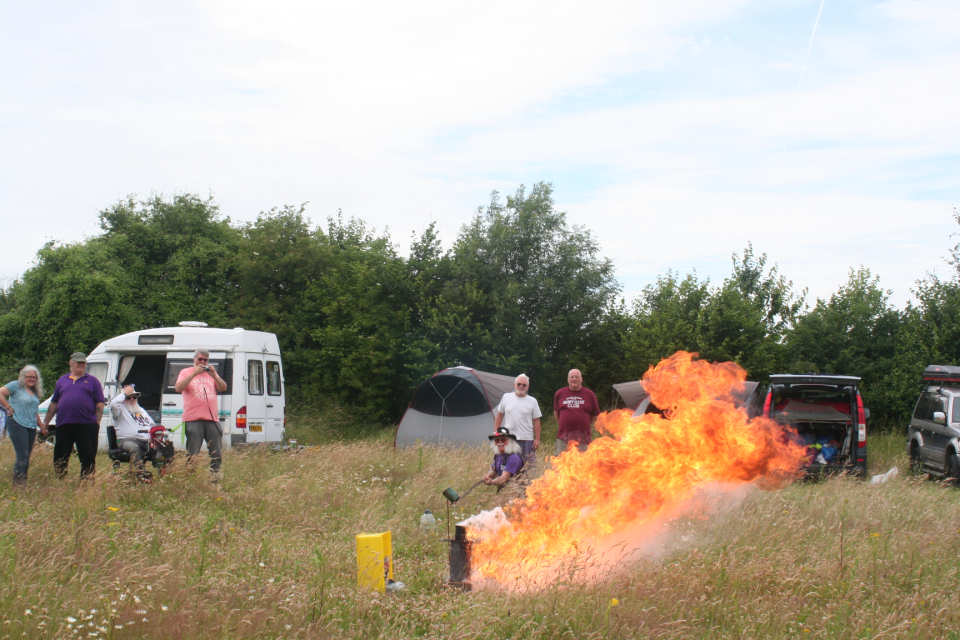 Veggie Pete has a fascination with flames - lucky not so singe his "ballroom baggypants"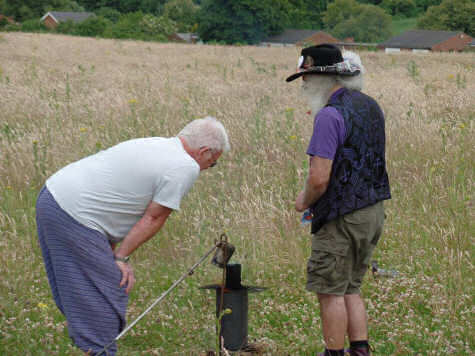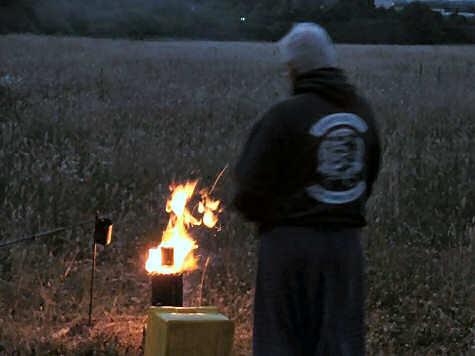 Then they did it again after dark...MUCH BETTER!

Video #2



Then we looked around for something else to play with - apart from kites of course!
For some strange reason, we felt the need for smoke trails in the sky - purple of course!
So we looked, we found and we got a 'reasonable' quantity of paintball smoke grenades...

Our thanks to Andrea for the following video clips
Ground test first of all...

Pull the striker and chuck it!

Lucky the grass was damp!

Everyone got quite excited!

MORE!!!
Your browser does not support the video tag.
Then an air test...

Find a suitable kite in the air

Attach it halfway up the line

Pull the striker & release!

Ooooh - real purty!

MORE!!!
Your browser does not support the video tag.
We then modified a smoke to work with our wireless control system - not a great success, yet...


Saturday Evening over Cliddesden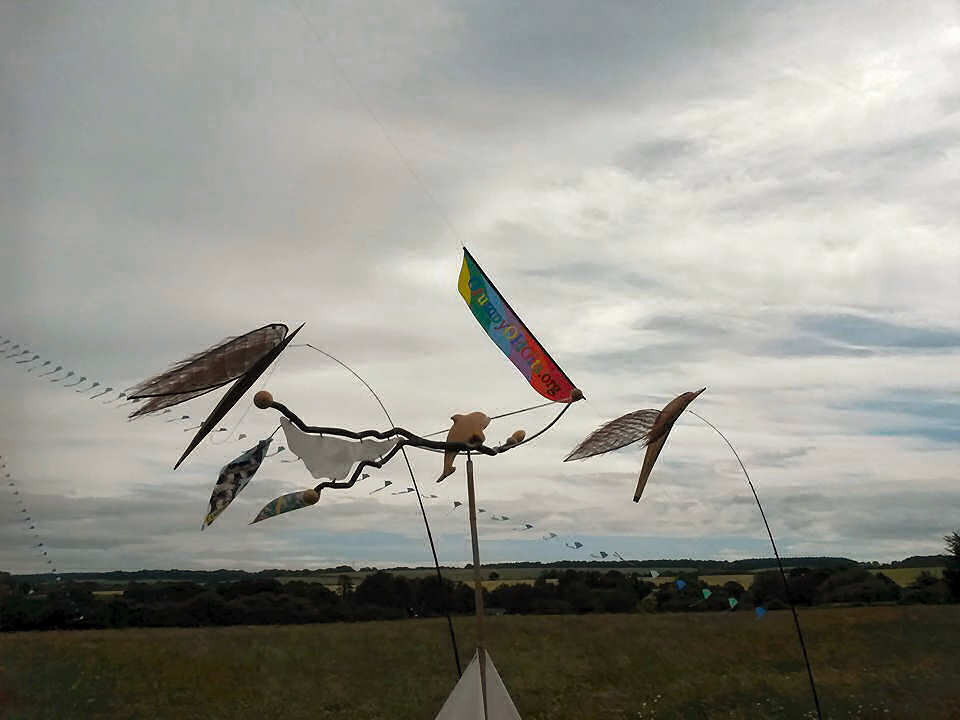 As dusk fell, the drinkies, the nibbles and flashy LED bottles came out...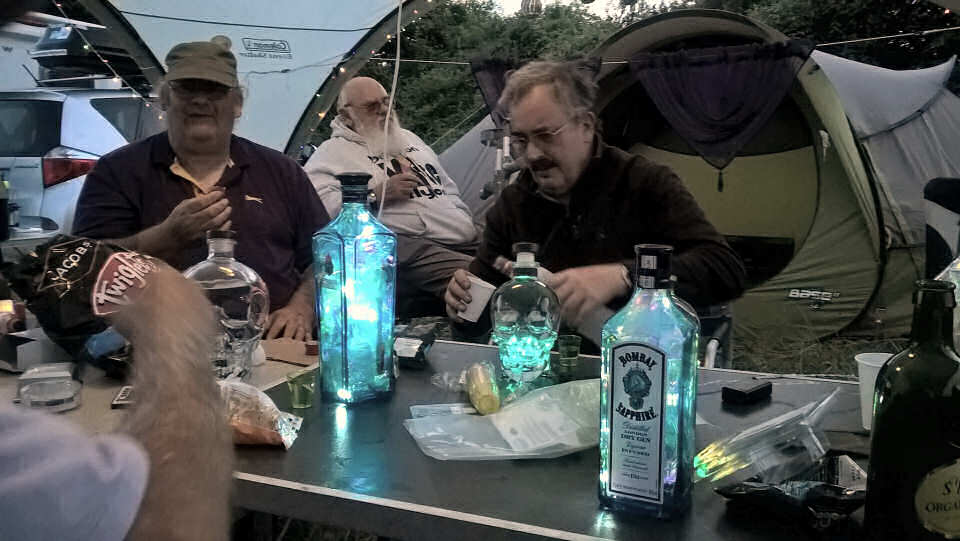 and there was a lot to talk about... mostly bollocks!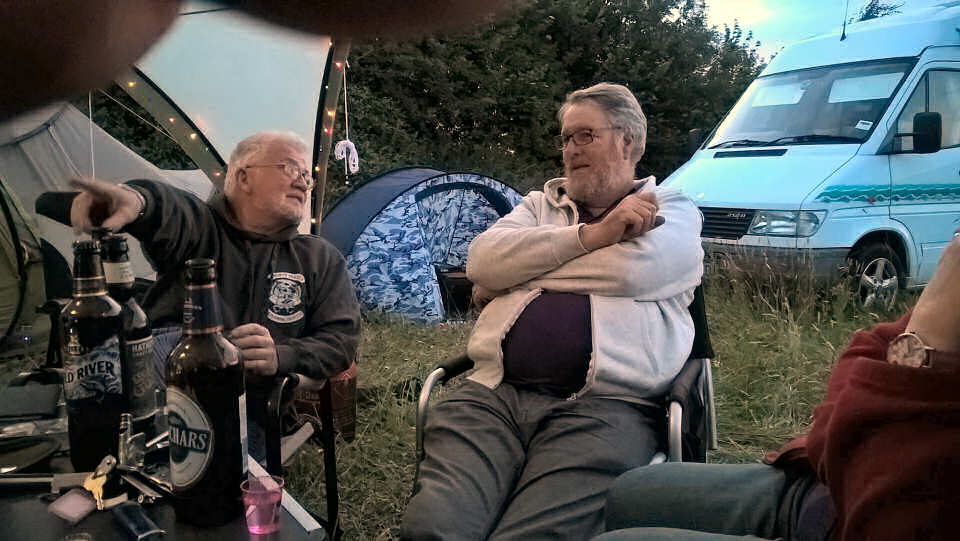 We think Peter liked his new little friend - but he doesn't talk much...
Click "Full Screen" for maximum impact - no sound.

Your browser does not support the video tag.
But then...

it seems he

asked for

veggie sausages

Oh Dear!


The meal that night was a definite over-indulgence of food and drink!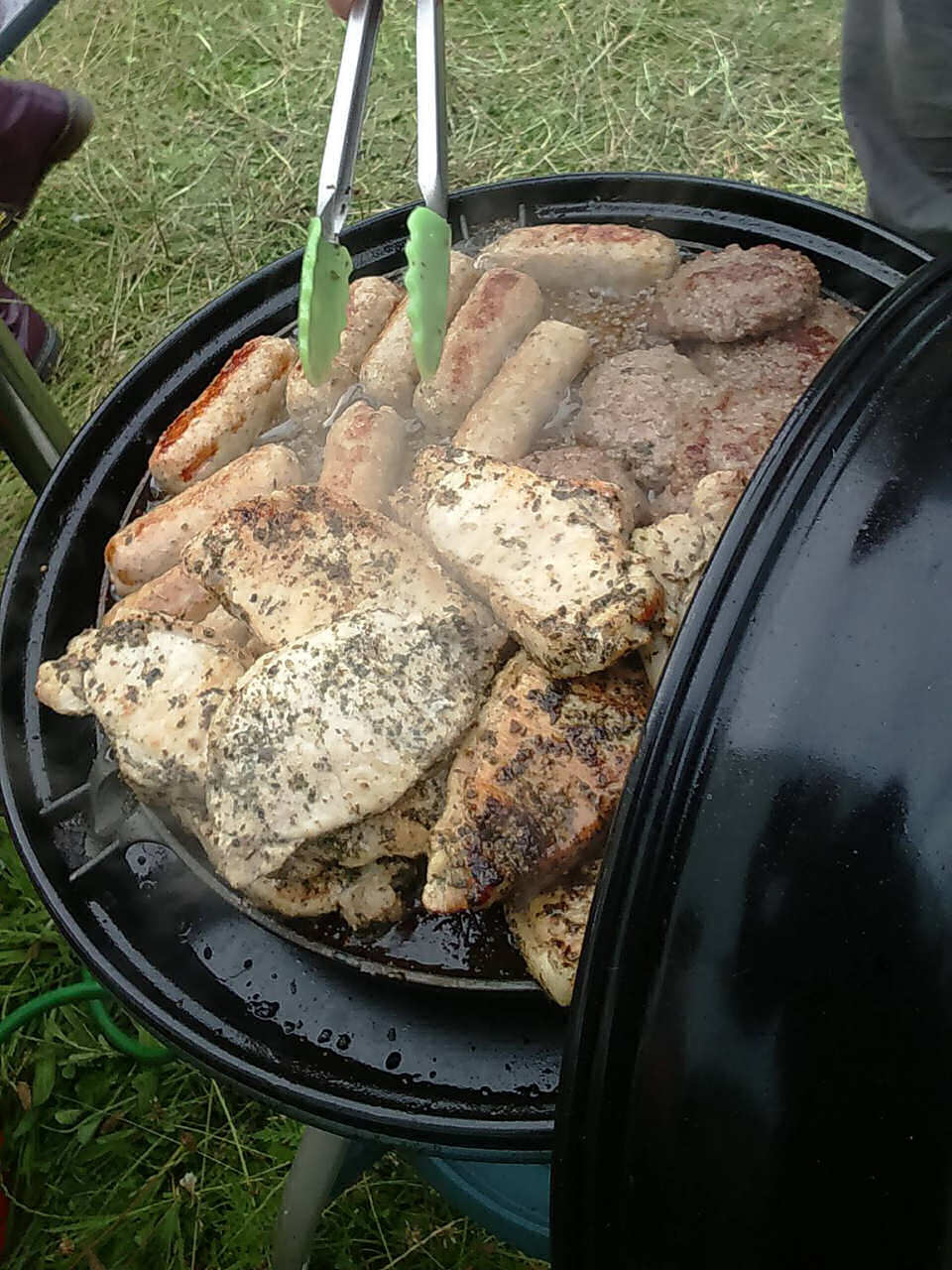 The rest of the team were busy chopping up stuff for salad so there was a lot of healthy stuff too!

Roy Broadley drove up in the late evening and pitched a tent for a night under the stars.
Andrew Beattie arrived about 10:00pm - great to see him - but he was off again early on Sunday.

We are always pleased to see Megan, the ball-crazy springer, and her 'Mum' Alison
from the nearby houses. Rain or shine, they always appear for morning &
evening 'walkies' - and to sniff out any forgotten food items - (Megan that is!)
---

Sunday morning dawned overcast with light drizzle, but the sun finally appeared around midday.

We had a bit of trouble with Phil's train of "Angels & Demons"
Only the last (top) kite seemed to be doing any work - hmmm...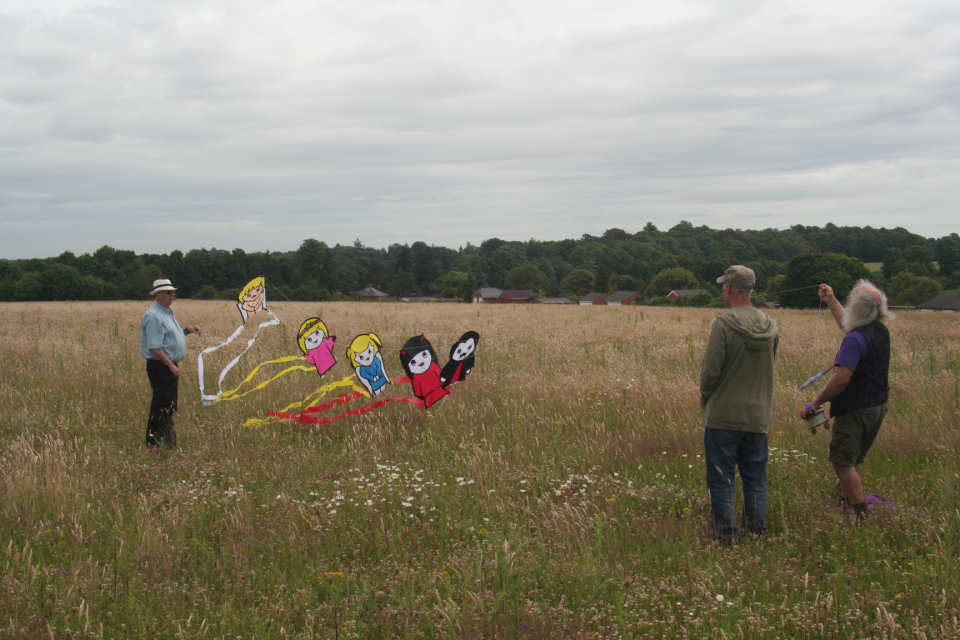 We ended up adjusting the bridles of the other 4 to match the top one...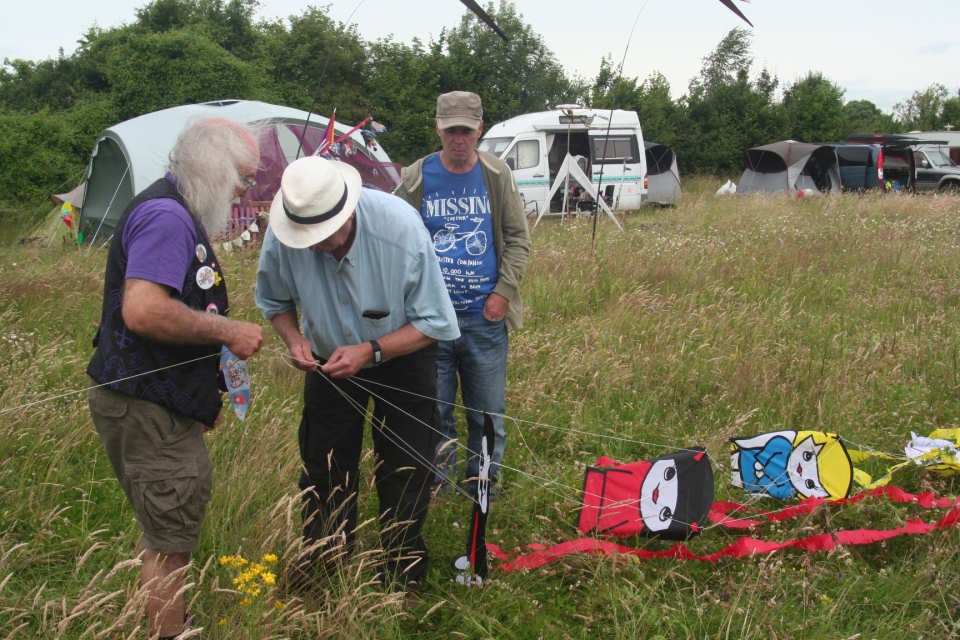 Yay! Five kites all in a row - Success!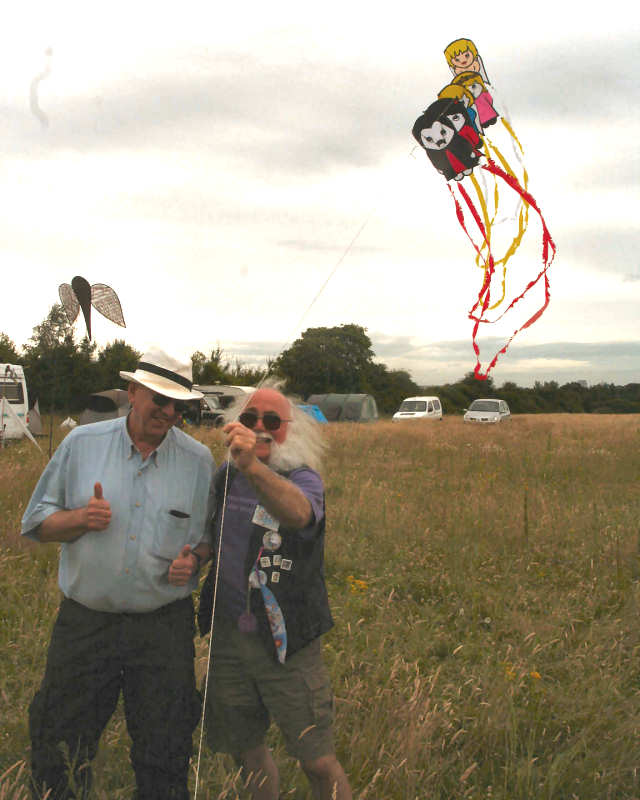 Sunday breakfast - more like Brunch! Once again th Cadac was fully loaded with sausages,
bacon and mushrooms, and then somehow Keith got some fried eggs on the go - so before long
it was cheesy bread roll crammed with sausage, bacon, mushrooms AND a lovely fried egg...
- very messy but quite delicious

---

Apart from the assorted pyrotechnics (some of which were problematic) and excessive amounts
of good food (mostly prepared by sundry Gits) and some lethal variations on the Pimms recipe,
(mostly drunk by sundry Gits) there was an unexpected and moving part of the weekend,
when Libby Scarfe turned up on Sunday afternoon.

Bless the lady, not only did she bring two delicious cakes to add to non-stop weekend foodfest,
but she also brought a huge collection of

Phil's

kites, lines, kite books & paraphenalia.

When we recovered from the shock of this unexpected bounty, and looked at the mountain
of stuff, it was clear that the best course of action was to look through it carefully
& share it out according to peoples' needs.

As relative newcomers, David Pengelly & Kim Payne needed extra kites to round out their collections.
Some of the kites have spars missing, or need TLC to get them flying properly, and there are lots of
little kite bags to be made - so that should also be a learning experience for these two lucky chaps!


3 days later...

Well done David!

Quick off the mark

Your first DIY kite bag
Meanwhile...

Kim is on a mission...

Delivering a canal boat

A serious business!

Andrew & Sandra took on a bundle of small single-liners to pass on to any children who ask nicely.

David was also the lucky recipient of Phil's

Flaming Hapi Coat, Flaming Waistcoat and Flaming Kepi


So if you see him wearing any of those, feel free to tell him a "Flaming Phil" anecdote in the nearest pub!

There were also several large spools of new line which was gratefully received by various other Gits
for use at kite workshops, and to keep on hand "just in case".


Dicky found a book....

oh dear...

what will he get up to now?

Muhahahaaa....

Be afraid!

Thank you Phil & Libby

We persuaded Libby that what she really, really wanted to do was to let off a smoke grenade...
Which Keith then used to perform a newly choreographed "Purple Smoke Dance"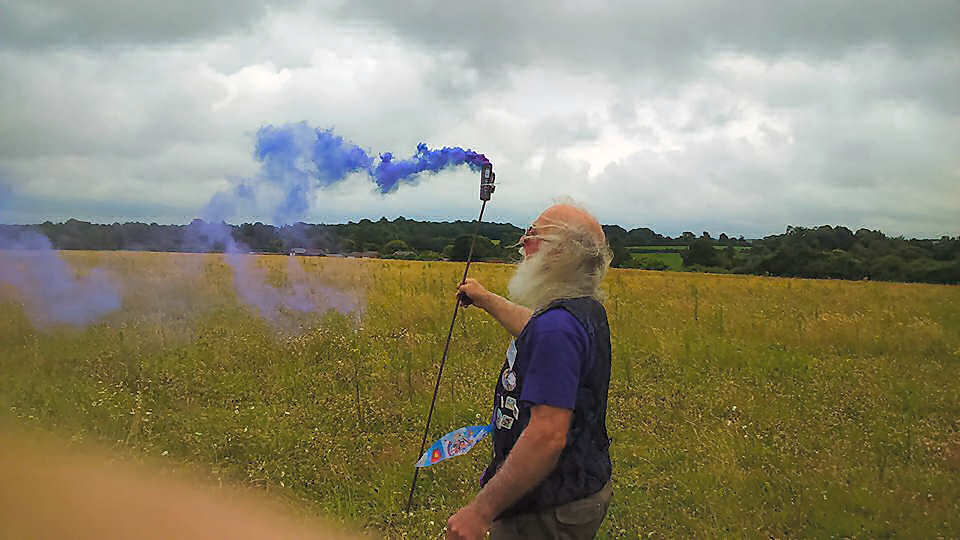 Facebook Albums:-

Sunday at Gittesden (10 photos)

+

Git weekend (12 photos)

+

Gittesden (19 photos)



---
Please close this browser tab to return to the main page of Events in 2016
Or click here to go to

New events Diary