Grand Day Out - Keith Goes AWOL (Airborne Without Lunch): 18 April 2015




Henstridge Airfield

, The Marsh, Henstridge, Templecombe BA8 0TN, UK -

Airfield Weather


This should be fun - Keith finally cashes in a voucher from

FLY2UP.COM

for one hour
in a microlight - birthday present from his Wife & daughter nearly 2 years ago!


Gits Attending = Keith & Alan, Dicky & Janette



Let's all bring BIG zoom lenses and try to get a shot of Keith going green
after a FEB at the

Bell at Amesbury - SP4 7AW

(Wetherspoons of course)!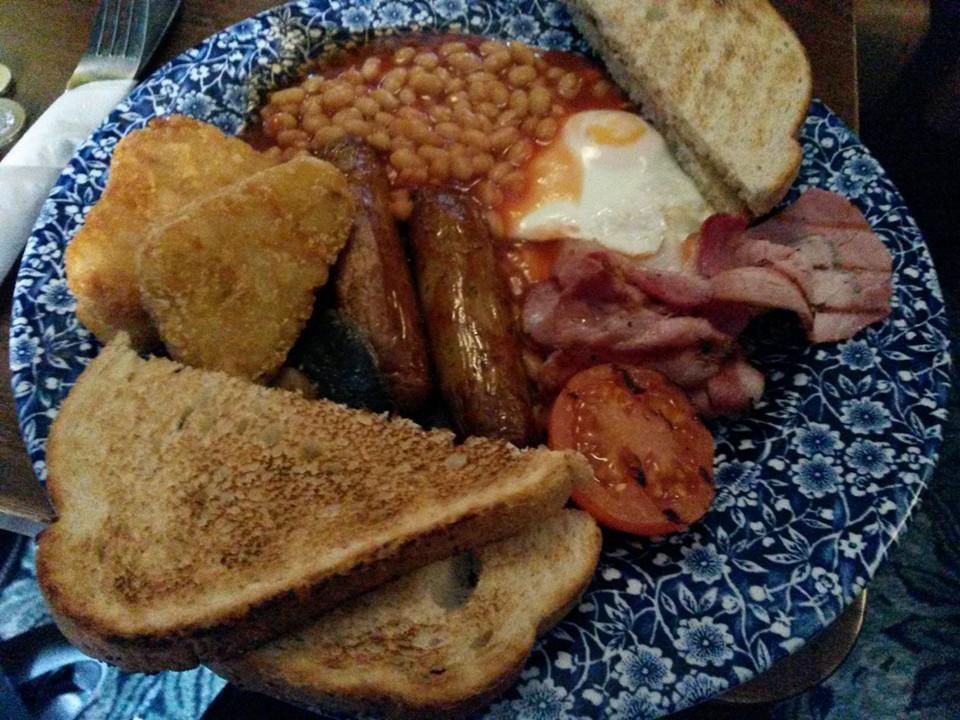 We rolled up at the airfield (after Satnav sent us to a nearby farmyard) and got comfy...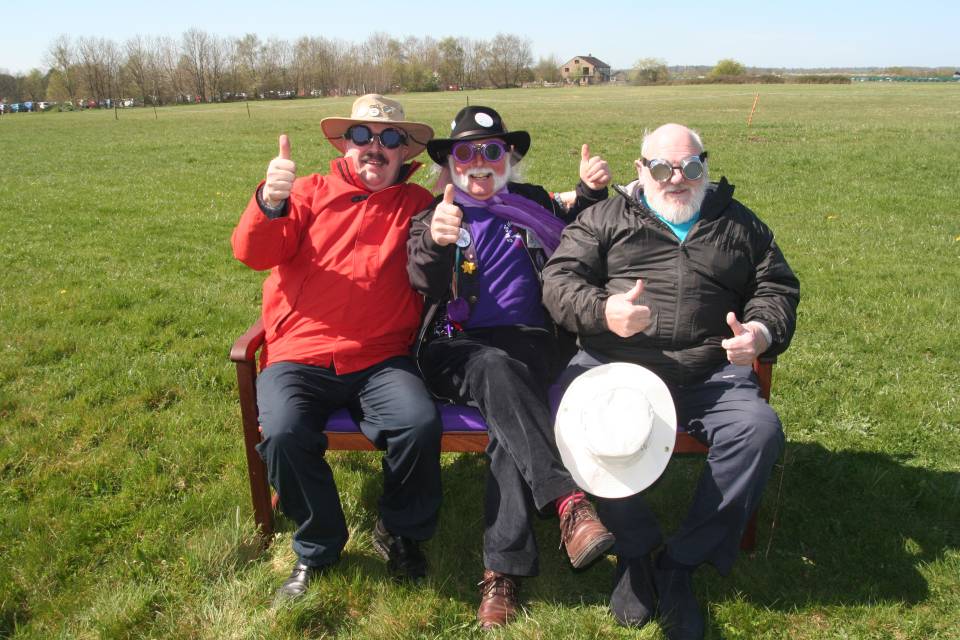 So there we were, plane-spotting from our lovely wooden bench, beside the "yellow & black clubhouse" that we had been told to look out for...


WRONG - we had actually parked up beside the new, unfinished NEW clubhouse, complete with "outside loo" which naturally proved irresistable to a certain small, hairy herbert!

Luckily, Keith had a word with the nice man who was driving the tractor-mower, and he
pointed out the proper clubhouse and Control "Tower" near the East end of the tarmac runway

A quick message to Ian Macadam (Keith's pilot & Chief Flying Instructor) who then came over
to the clubhouse & tucked into an enormous plate of chilli & rice while Keith signed his life
away on a Disclaimer form - Ian said he needed that chilli to help thaw out after his morning
session with another mug (sorry - punter)
as it gets quite parky doing 85 knots in an open cockpit at 2,000 feet!

Here is Ian's

Learn-To-Fly website

and here he is

Hang Gliding over the Alps

+



Then he made Keith empty his pockets of EVERYTHING that might possibly fall out - keys,
bits of string, conkers, sweets, more keys, Minkey, his camera - ANYTHING that might
fall out and land up in the propeller just behind his head!
Then Ian drove off with him, promising we'd see him taxi past "in about 10 minutes"

Forty minutes later...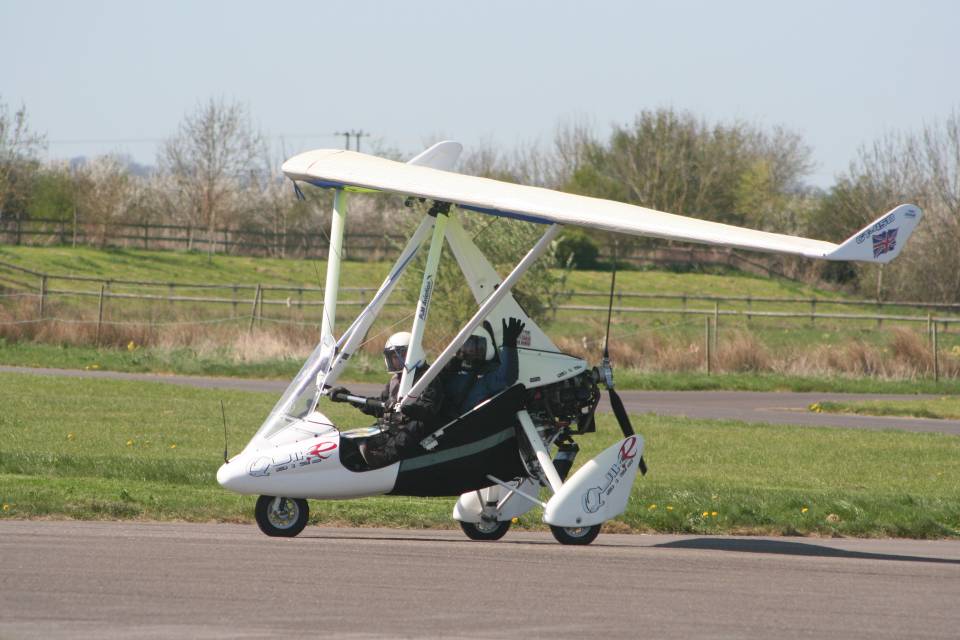 He taxis past, heading for the far end of the runway (for a take-off into the wind)

Turns and stops at the far end - brakes on - confirm with Control "Clear for take-off"
- rev to full power - check temps and pressures - all OK - brakes off - GO!!!



and he looks to be off the ground in about 50 yards!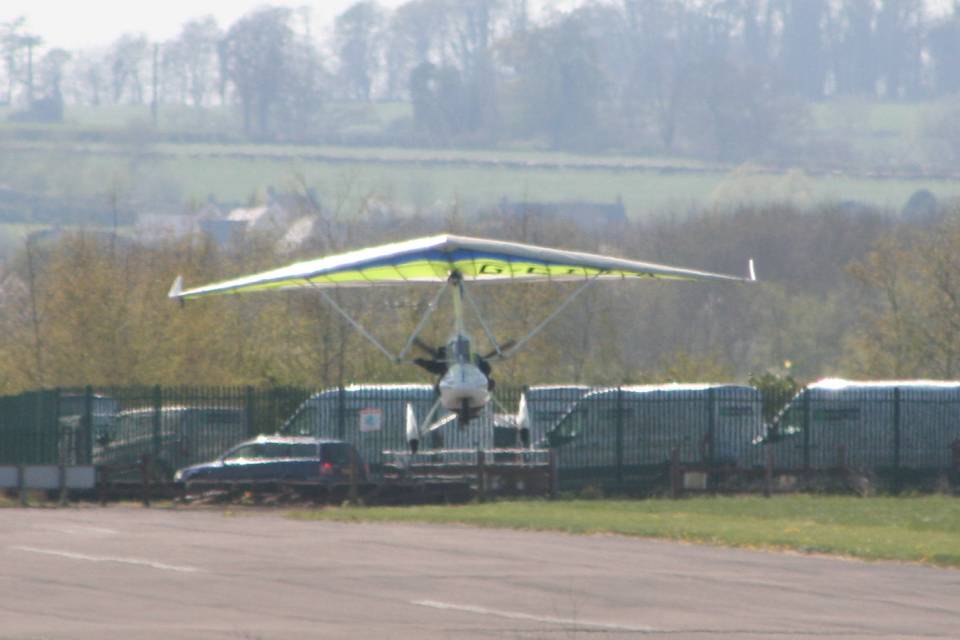 Up, up and away...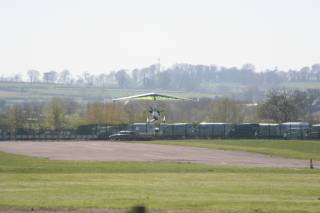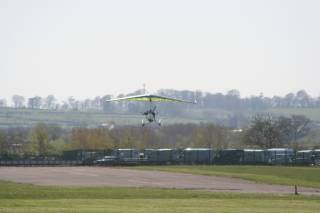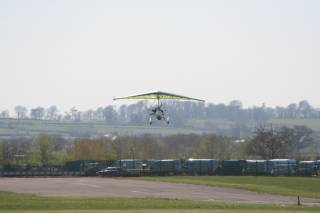 Climbing steadily into the cool (and a bit blustery) Easterly breeze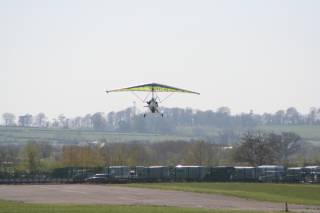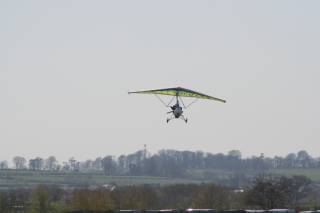 - well up as he passes over the clubhouse - note the video camera under the starboard wingtip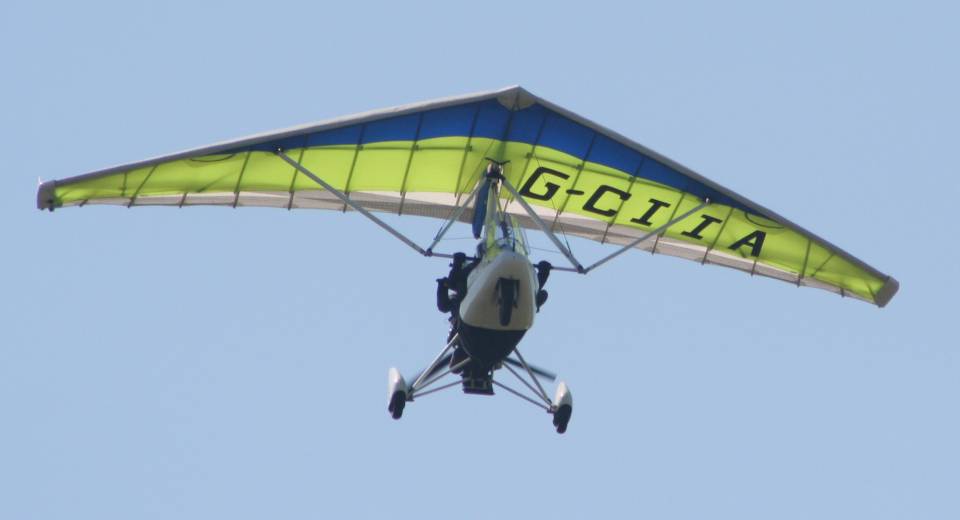 What a super friendly bunch of like-minded people at the Clubhouse - brought out
the wine and nibbles for us to help pass the time while Keith was airborne
- met up with Brad from

Great Western Airsports

who also does trial flights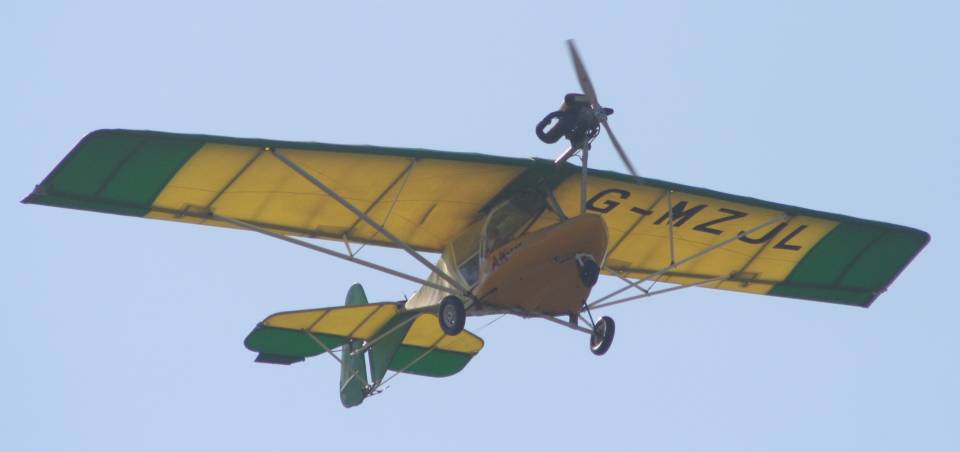 About an hour later..... THERE HE IS!!!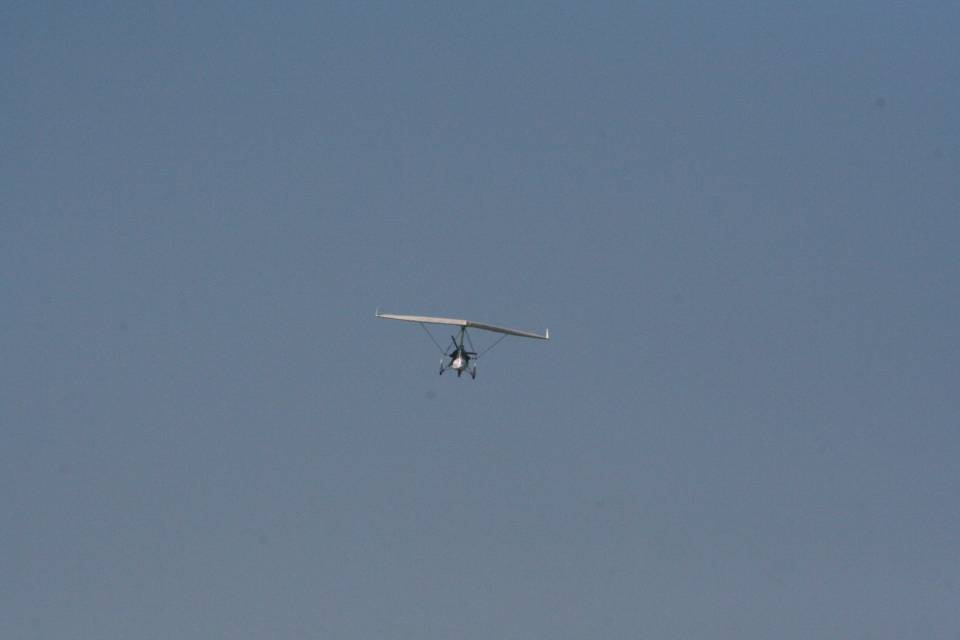 coming in from the West - makes it look easy!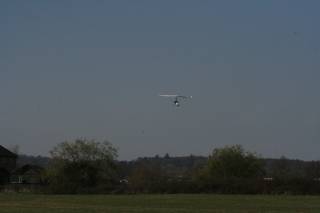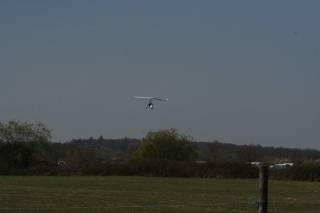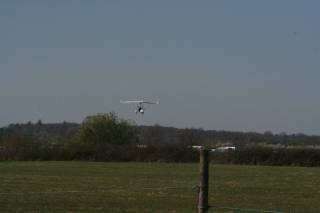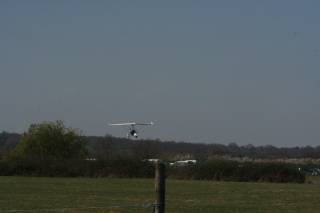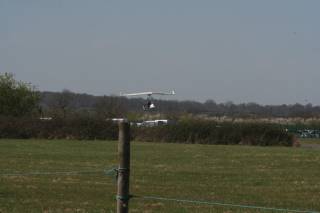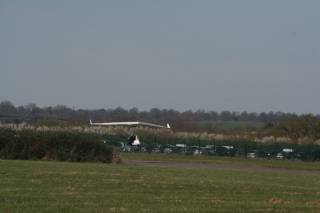 Touchdown! The Eagle Has Landed...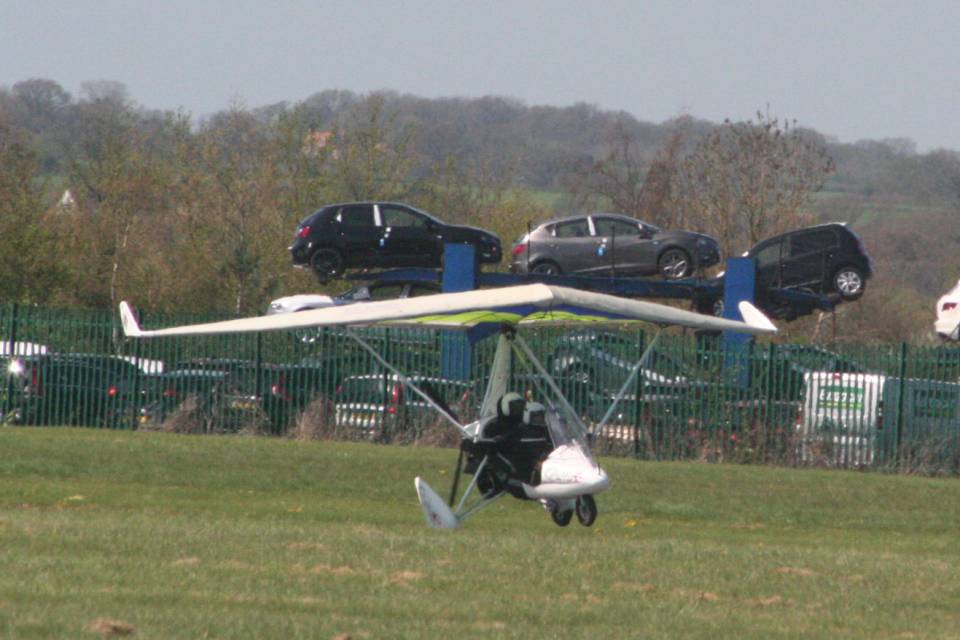 Was keith excited? ... Hang on - let me rephrase that...

WAS KEITH EXCITED!!!
Well, yes, he was rather more than usually exuberant - and in urgent need of hot coffee to help thaw out his several appendages which had suffered from some serious wind chill at 3,000 feet - he went all the way to Weymouth, around the bay a few times, and then followed the coastline up Chesil Beach before heading back.

Then we made our farewells & drove to Hamworthy Park

BH15 4DH

for tea & biccies + a bit of KAP at the edge
of Poole Harbour - Brownsea Island top right, Keith more or less central, Dicky & Alan brewing up on the left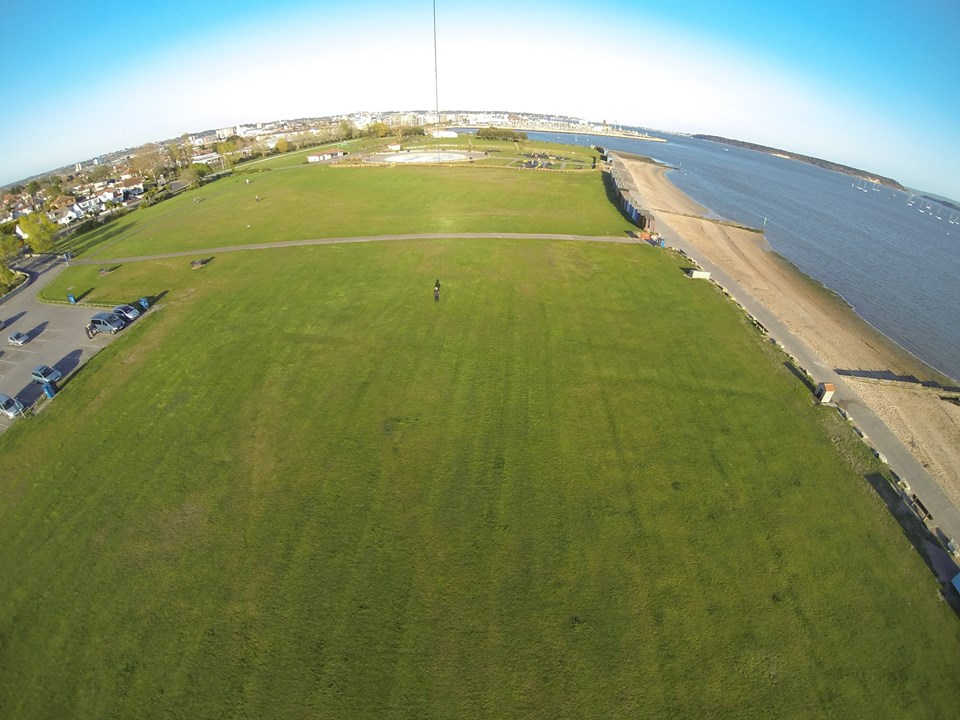 Then a final meal at

The Yachtsman in Hamworthy

before we all went home, tired but very happy!

---
Please close this browser tab to return to the main page of Events in 2015
Or click here to go to

New events Diary